Romanian Tourism Fair, 33th Edition 2015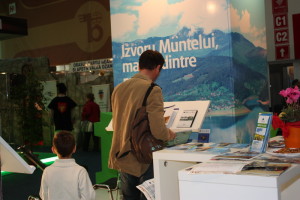 From 12th to 15th of March 2015, Neamt County Council attended, as every year, at the Romanian Tourism Fair, 33th edition, held in Romexpo Bucharest.
Under the title Neamţ – a land of legend, county representatives were present at the biggest event in the country, with multiple materials promoting the objectives in our area, particularly appreciated by our stand visitors.
Figurines that have animated characters of Creanga, made by craftsman Ionela Lungu, were another point of interest, especially for children, and opportunity for their companions to remember from childhood stories.
And at this edition, the Ensemble of Carmen Saeculare Folk Art School contributed to promote the image of Neamt County by its presence and performance that drew viewers appreciation.