The main exhibition of the Museum of History and Ethnography Targu Neamt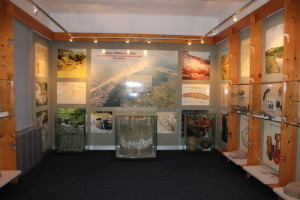 The permanent exhibition at the Museum of History and Ethnography in Targu Neamt was founded in the way it looks today, in 1987, but was rebuilt, expanded and improved in successive stages by 2012. In the six rooms, three downstairs and three upstairs, exhibition, put in relief the life of the inhabitants of Ozana water from Eneolithic, Neolithic, Bronze Age, until the formation of the Romanian people and the contemporary feudal era. Visitors who pass the threshold of the museum will be surprised by a rich archaeological collection, of which is distinguished the hoard of silver coins discovered in the excavations carried out in the period of years 1939 – 1963, confessing the history of free Dacian settlement in this region. In this regard, there are upstairs, furnished a home from those times, with all the typical, representing one of the attractions of the exhibition. Also, in panels and showcases, are exposed various ethnographic objects resulted from main occupations (farming, pottery, salt extraction from saltworks, animal breeding, especially sheep), objects used in traditional crafts for spinning wool, weaving, woodworking and metal (especially iron), and document photos. Visitors will discover with great pleasure a room dedicated to Neamt Fortress with objects discovered from archaeological research and restoration.
The exhibition also includes a pavilion in the Museum yard set up with large peasant installations, of processing fruits and seeds (oil press and water mill), wood processing (water sawmills) and wool (piua (Installation or machine used for felting wool fabrics by rubbing and pressing them between two rotating cylinders and hitting them with mallets in a hot and humid environment) for suman (Knee-length coat, made of handmade thick cloth and once worn by the peasants). The novelty of the exhibition is the exhibit of which is shown at the entrance to the museum. This month is exposed an interesting wooden pattern, for curd, about the size of a brick, inlaid with the insignia of the manufacturer, meaning own brand that individualize him from other manufacturers! Because there is an adage by virtue of which when you visit a city, to know its people you need to visit its museums it wouldn`t be wrong to dedicate an hour or two to the Museum of History and Ethnography in Targu Neamt.
So we invite you to take a peek into the history of these places and people.