Tonitza`s paintings from the Monastery Durău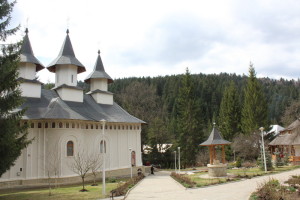 Nicholae Tonitza, whom about Tudor Arghezi wrote "Tonitza is a word complex concentrated active; big in all components … . His suave brush say, think and sing … " was born in Barlad on 13th of April, 1886. He studied painting at the Academy of Fine Arts in Iasi, followed in Berlin the Bavarian Royal Academy of Fine Arts, then in Paris. Few know that Tonitza, best selling Romanian painter for 10 years (almost one million), was a painter of churches. In our county we have proof his talent and artistry that we find at Durău Monastery. The monastery was founded in 1779 as a convent. The present church was built in 1835 and consecrated with dedication day to the Annunciation, when it had community of monks. It was painted in 1935 in wax by some graduates of the Academy of Fine Arts in Iasi, along with several students who have answered the call of the master, among them being Corneliu Baba (1906-1997).
The painting that we admire today humanizes the characters, giving them some specific features of the Romanian peasant. Through the way is illustrated the Birth of the Savior, we see an eloquent detail: the eyes of the child Jesus, whom we see in all Tonitza paintings, large eyes, round and expressive that innocent look with endless sadness; then, at the foot of Ceahlău Mountain, the Athos of romanians, under the sky full of stars, are  shepherds dressed in bunda  and wearing sandals, like the shepherds, with gentle features, painted in a mioritic atmosphere of the story, along with their sheep, in wich we see how they worship the Virgin who embrace Jesus. Although years have passed over these paintings, it is noted the freshness of the colors that is kept magically. Therefore, those who come here and admire the beauty of the paintings and icons are convinced that the narthex, nave and altar have divine power!