Yew Reserve – Pangarati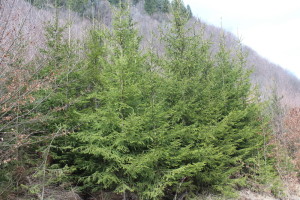 Yew reserve from Pângăraţi is one of the three reserves of its kind in our country, representing a wooded area with a protective role for yew tree species (about 500 copies) in the area of ​​2 hectares. Located in a landslide area, in reserve were made afforestation to strengthen, so we'll also find mixed in with species of fir, pine, spruce, beech, hornbeam, juniper, carp, corn and peanuts. Reserve contains specimens of yew, aged over 80 years and there seems to be a specimen that has reached over 500 years old! Yew, which can reach between 6 and 15 m in height and between 1.5 and 6 m in diameter, covers a vast territory from Britain to the Caucasus, northern Iran, Northwest Africa. Yew wood, hard, tough, elastic and compact, can be polished, but it takes a lot of processing. The reddish color of yew wood is highly prized for making artistic pieces, wood carvings, furniture or household items and household. Also yew wood can be burned as incense.
In Romania, the yew grows through beech forests, but is planted in parks and gardens as ornamental tree. Indiscriminate cutting of yew wood, very valuable, led to a sharp decrease in the number of specimens. As a result, wherever they find planted in our country has the status of protected species and is declared a natural monument.