Catholic Churches in Neamt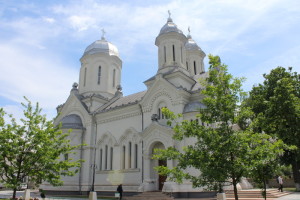 Historical documents certify the existence of Catholics in Moldova as early as the thirteenth century, when Dominican monks Christianize the Cumans seated on these lands. In the centuries that followed, many Catholics have migrated to Moldova from Transylvania, so in 1884 is founded the Roman Catholic Diocese of Iasi.
In Neamt there is a large Roman Catholic community, especially in the eastern part of the county: the Roman Deanship has 18 parishes, and some churches have a history of over a century. Let`s visit at a time, the oldest of them.
The Roman Catholic Church in Săbăoani, dates back to 1894-1902, but the first church here is mentioned in a document from 1741. It was built of wood but destroyed in 1831, it was rebuilt scarcely in the middle of the nineteenth century. In Săbăoani live and work over 9,000 Roman Catholics, a large community, for whom were built in closer times, two more churches.
The first romano-catholic church from Adjudeni was built from wood in 1776, although first Catholics were settled here from the XVth century. The next church, also from wood, was built in 1810, replacing the previous one. The first church of wall in Adjudeni arose during 1875. This church will be modified and enhanced in the years 1927 to 1928 and continued to exist until the years 1972 to 1974, when a new church was built over the old one, completed in 1986, because here too exists a large community, of over 5,000 Roman Catholics.
In Tămăşeni, Catholic community is attested from the sixteenth century, but the first Roman Catholic Church dates from 1646. The church did not last over times, so a new church was began to build in 1862. This lasted until in 1977, then it was rebuilt completely, so as it looks today.
The Roman Catholic Community of Buruieneşti village is attested from the eighteenth century. To this village it links the Treasure of coins from the time of Peter Musat I, discovered here in 1985. A brick church was built in 1864 but has burned, being rebuilt only until 1937.
At Pildesti, Roman Catholic community was formed of the Transylvanian immigrants, came here from the eighteenth century. The present church (Assumption) was built between the years 1893 – 1900. The form it has today is due to repairs, renovations and subsequent changes.
In Roman Catholic community is attested from the XVth century, and from 1991, Roman city became the main training center of the Franciscan monks. Here exists a Theological Institute of University Grade and a Roman Catholic High School (St. Francis of Assisi) and the over 5,000 believers prays in those four churches built in recent periods.