Folk Art Festival "Dowry Chest" the tenth edition in 2015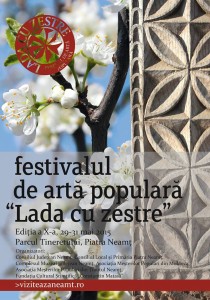 Folk Art Festival Dowry Chest, event initiated since 2006 by Neamt County Council, City Hall and City Council Piatra Neamt, Neamt County Museum Complex, the Association of Craftsmen of Moldova, Neamt County Association of Craftsmen and Cultural Foundation Scientific Constantin Matasa, arrived, there!, at the tenth edition.
Festival aims to promote, build and sustain traditions and folk art creation in our country, as reflected by the purpose of the awards which are granted annually by organizersː Award for the Creation in Folk Art, Award for Promoting of Folk Art, offered by Neamt County Council, and Neculai Popa Prize, awarded by the Neamt County Museum Complex.
At this festival, have been invited to participate renowned craftsmen from across the country as well from Moldova. This year the festival came to an anniversary edition, was held from May 29th to 31st in the Youth Park in Piatra Neamt. We could admire and buy ceramic products and figurative ceramics of Horezu, Maramures, Corund and Moldova, small wood furniture and wood products for household, leather products, braided and woven fabrics, glass painted icons , ornaments, products made of bone, musical instruments, painted eggs, and also traditional food made by craftsmen arrived in Piatra Neamt.
A successful event for both craftsmen exhibitors and also for the visitors.