Grandparents House from Chintinici- Roznov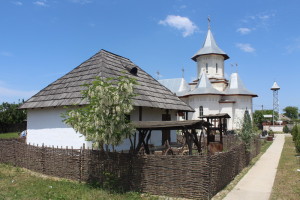 Grandparents House from the city Roznov, Neamt County, becomes from one year to another, to honor Father Iulian Vasile – the initiator and architect of the project, and to the pride of inhabitants of the town, a special landmark on the map, receiving scientific, ethnographic and educational importance. The young ones and not only they, found in this true House of tales, about a part of the history of the nation. All or nearly all from peasant household from now more than a century, is gathered in Grandparents House. Each object has its place in the history of living in the land Neamt County. Even if they are piled up into two chambers, they reveal truthfulness and they speak to us with conviction that Romanian peasant is the guardian of traditions and ancestral faith that he was and is always faithful to his earth and to God.
Built just like a peasant house from the early twentieth century, made of adobe, right in the churchyard (near The Monument dedicated to Heroes of the Homeland), Grandparents House is, of course, another monument in honor of Romanian peasant.
When you are in the city of Roznov, in the churchyard of Chintinici district, Grandparents House awaits you to pass its threshold, anytime!