Icons on wood and glass: the craftsman Cecilia Haisan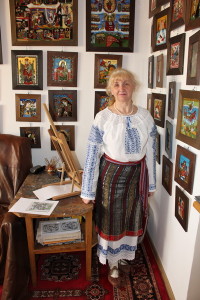 The arts are the soul of a nation, the flowers that are coming out through the vegetation of the earth coloring its glades over which she is the maaster. Folk artists are those who are building and leading on the traditional crafts heritage in a land like ours. Member of the Association of Craftsmen of Moldova, Cecilia Haisan is the artisan who learned the art of glass painting at the School of Arts in Piatra Neamt, under the guidance of plastic artist Doina Daschievici.
Soon she became famous with his works displayed at various exhibition of icons painted on glass. She paints, in fact, her soul on glass spreading it to icons, in religious-themed compositions and beyond, using colors in an exceptional chromatic harmony, giving them a new life on the glass.
We discover in the work of the teacher Cecilia Haisan, painstakingly drawn and painted and with much talent, in the quiet home, the poetry of some saints faces, the face of Virgin Mary in many instances, the poetry of biblical scenes treated in an original style.