Opening exhibition of naive painting Gheorghe Ciobanu – Piatra Neamt Art Museum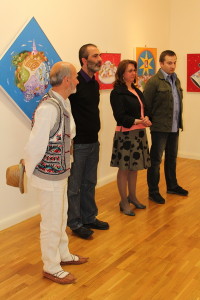 Exhibition of naive painting is part of the Festival "Dowry Chest". Born in Bălţaţi, Iasi county in 1944, the painter Gheorghe Ciobanu, who paints for over 30 years, is the man who did not need too much school to express his native talent and to impose among the brush artists.
The artist teaches painting in creative camps, participates, being invited with his work at exhibitions and art salons of naive art organized in Romania, France, Spain, Austria, Germany, Switzerland and has paintings spread in private collections all over the world!
Here's why you should not miss Gheorghe Ciobanu Naive Painting Exhibition held at the Museum of Art in Piatra Neamt, which was opened by the art critic Iulian Bucu, Friday, May 29.
The paintings are lovely, full of stories and fantastic characters, as if Gheorghe Ciobanu would be an Ion Creangă who paints the idyllic world of the village of his childhood, and the exhibition will be on cymas less than twenty days.
Also within the Festival, Saturday, May 30th at 9.30 pm, at the Cucuteni Eneolithic Art Museum, was held the symposium Icon – faith and color, with the participation of renowned scientists, researchers, curators, who presented communications, event moderated by Florentina Buzenschi, curator at the Museum of Ethnography Piatra Neamt.