Touristic sheepfolds in Neamt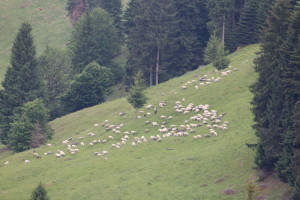 To give you an idea of what is a touristic sheepfold, we invite you to spend an unforgettable weekend or a mini dream holiday at a health portion. Know that a touristic sheepfold, built according to European standards, has the foundation of cement, as well as shelters for sheep, cows, goats, pigs. Construction of the sheepfold has separate rooms (one for the preparation of milk products, another for storage of finished products) with hone, water, hot water and electricity, stainless steel sinks, it has room for accommodation of the shepherds, social group and cabin shower and accommodation for tourists with all the comforts of a cottage.
Being in full development, the only tourist sheepfold from Neamt County are in Farcas, where the town hall and local businesses (sheepfold is a family business), pride themselves with four of these touristic sheepfolds that we visited. Visiting season of the sheepfolds begins on June 1 and ends by October. Let's take them one by one.
Tourist Sheepfold Lunci-Stejaru, of all is the most accessible, located at the foothills of Bistrita Mountains, in a glade from the edge of Stejaru village, about 3 km from the center of Farcasa commune, in a charming landscape in the valley of the creek Stejaru. It goes on a forest road good enough for any car. We found there a very well-equipped cottage for tourists (8 seats), with kitchen downstairs and living upstairs and next to it two ponds filled with trout. Exists there camping site, too. The food you can prepare yourself or you can have specific dishes (organic, of course), offered here: roasted lamb, or lamb in jintuit (Whey fat squeezed out of curd after kneading), lamb borscht, balmoş (Cooked food, usually of sweet curd mixed with a little cornflour and boiled sheep's milk) jintuit, trout in hârzob (basket of fir-tree branches on which is keept some fish), grilled or smoked, stuffed cabbage (sarmale) with urda, pies poale-n brau (pie lap in waist), with a special savor that you will not find anywhere. Can be organized hiking, hunting or fishing trips, campfires, etc. For appointments to the sheepfold, call the phone 0744.182.093
Tourist Sheepfold Burned Cross opened of 4 years, is situated at an altitude of about 1000 meters on Top Fundoaia from Stănişoarei Mountains, about 4 km from the village center. For the road (off road – 2 km) which climbs to sheepfold on the side exposed, with inclinations of over 30%, you need a 4 × 4 car. It can be walked. From up here, we see the panorama of commune Farcasa and blue heights of the mountains. The views are delightful. Sheepfold presence is signaled by a huge cross, on the placed of the tree where it was a cross and burned from a lightning. Sheepfold is the most known from Farcas and from the county. For appointments to the sheepfold, call the phone 0762.280.95.
Tourist Sheepfold Piciorul mare on the Top Piciorul Mare is located in the mountains Stănişoarei (1300m high), 8 km from the village center. It goes on off-road (2.5 km). Sheepfold is one of the largest in commune. Can be visit to make a comparison, the old sheepfold (from the late nineteenth century), located at 1400 m. The camping is free. Those who come can be accommodated, for now, at the guesthouse and then climb to spend a day to the sheepfold. Here can be reached, for example, for a special picturesque, by horseback or by chariots or by car 4 × 4, which are available free of charge. Are organized mountain hiking to the peaks Ţifla, Razem, Cioatele, Hălăuca and Bivolul, which we know from wanderings of Calistrat Hogaş, off road walks, rides with horses or chariots on the mountain, dinners with traditional products, pursuing the way of milk until it arrive in the plate, hiking for picking berries and campfires. For appointments to the sheepfold, call the phone 0742.529.613.
Tourist Sheepfold Stana Văcărie, belonging to the Association Apa rece-Frumosu, is perched at 700 m high on top Văcărie, from Bistrita Mountains, about 4 km from the village center. The road is off road climbing 2 km, winding, for Cars 4 × 4. The views that can be admired even from window to other mountains, over the village Farcasa and the valley Bistrita, are s remarkable. Administrator of the sheepfold tells us that: "we offer tourists who come to spend a day at the sheepfold with us, our milk products, in the tasting room, hearty meals with cheeses and specific products such as roast lamb or pork grilled, lamb or sheep spotted, lamb soups and borscht, how cannot be find anywhere. We organize hiking, berry picking sessions, campfires. Visitors can camp for free. For the off road transport is free. We will ensure, as of September, tourist accommodation in 3 double rooms with double glazed windows, here, in this landscape that delights the eyes of all. Until then, for those who visit us, accommodation can also be made at guesthouse located at the base of the mountain". For appointments to the sheepfold, call the phone 0741.796.702 or 0722.343.193