The Neamţ area folk art
31 August 2015
No Comment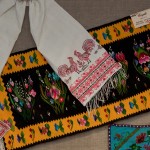 No other occupation has ever built a greater social and spiritual bond like traditional weaving during winter. Even Ion Creangă, the storyteller, would engage as a child in such activities that he later recollected how "looms would rumble all over the village Humuleşti". In such autonomous working environment, a genuine traditional art developed – the homemade fabric, as each loom worker added personal details, ornaments and colours to the popular model in the village,
The Neamţ area is famous for its wall rugs – the "rose" one in Ghindăoani, the "flower" one in Crăcăoani, the "cloud" ones in Bălţăteşti, the "capăi" ones in Hlăpeşti, the "fir-tree"  one in Săvineşti, "wheel" one in Borca, the "crescent" one in Dobreni, "the ram's horns" one in Pipirig or the "bird" one in Gherăieşti. Wool has always been available as there are sheep on almost every farm, so the women still use the old wooden looms, inherited from their mother or grandmother and weave old pieces but in new shapes and with new techniques: long-fleece counterpanes with decorations, rugs and blankets with their decorations in relief, flower-patterned blankets woven with many shafts, quilts, tablecloths, towels.
The gifted artisans in the Neamţ area carry on the rug weaving rugs with beautiful and highly appreciated pieces, with geometrical patterns and vivid natural colours.
Needlework, knitting, crocheting are still a popular pastime for the women, young and old, in the village. Just like in the past, the hardworking housewife in the countryside makes with her own hands the everyday objects and she decorates the house as well. She chooses her shapes and models but she observes the local tradition lending her own sensitivity and artistry to the pieces she makes.
Artisans – homemade fabric:
weaving – Maria Mihalachi, village Bălţăteşti, phone: 0233 244 458, 0728 028 423, [email protected]
weaving and needlework – RodicaCiocârtău, village Boboieşti, commune Pipirig, phone: 0740 671 831
weaving – Maria Robu, village Săbăoani, phone: 0761 507 923
weaving and knitting – Maria Brânzucă, village Ceahlău, phone: 0233 258 308
decorations made of hemp – Elena Ciocârlan, village Şerbeşti, commune Ştefan cel Mare, phone: 0749,811 589, [email protected]
weaving, tapestry, adornments – Children's Club Săbăoani, phone: 0233 743 436
bead adornments – Doina Solomon, Roman, phone:  0743 906 941
knit decorations – Maria Vasiliu, Târgu Neamţ, phone: 0745 502 525
needlework, weaving, folk dress and costumes –  "Nemteanca" Artisans' Association, Târgu Neamţ, phone/fax 0233 790 319, 0744 362 464