The Sea in the Mountains
27 August 2015
No Comment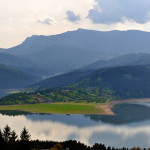 The Izvorul Muntelui Reservoir – the largest and the only one in the Romania where people celebrate "Navy Day"– can reach a maximum area of 32.6 square kilometres and a 96m depth. The reservoir can house up to 1,250 million cubic metres of water and usually stretches on some 35 kilometres, mainly at the foot of Mount Ceahlău.
The reservoir was built behind the impressive dam erected on the Bistrita River between 1950 and 1960 according to the design of the engineer Dimitrie Leonida. The dimensions of the dam, a "weight dam" – i.e. height: 127m, length: 435m, base width: 119m – or its mass, i.e. 1,652,000 cubic metres of concrete, underline its massive features. The performance of the dam also ranks it among the most impressive dams in the country and in Europe: it is the larges dam of this kind and the third highest in Romania, and the ninth highest weight dam in Europe.
A further significant detail is that despite its massiveness, the dam is not a monolithic one as its inside is crisscrossed by kilometres of galleries, ventilation shafts and checking niches. There are also many rooms inside the dam sheltering equipment such as video surveillance, earthquake monitoring, operating, and control. The water in the reservoir flows down to the Hydropower Station at Stejaru-Pângăraţi via a 4,655m-long and 7m in diameter feed tunnel, and then "falls" from 90m onto the turbine blades via two 4m-diameter pipes.
A wide variety of fish live in the reservoir: barbel, dace, huck, broad snout, roach, trout (indigenous, lake, and rainbow), bleak, gudgeon, bream, etc., and in Potoci there is a trout farm.
There are many accommodating facilities in the area and a variety of marine entertainment. Visitors can enjoy rowing boats or pedalling hydrobikes on the reservoir, which is the only one in Moldavia were one can practice a variety of nautical sports, from water ski to diving.