CUCUTENI ENEOLITHIC ART MUSEUM – PIATRA NEAMŢ
2 October 2015
No Comment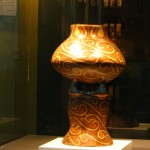 The Eneolithic Art Museum – Cucuteni is a unique national museum by the approached themes, history and art. Currently, the museum shelters the most important Eneolithic collection of the South-East Europe. It is exclusively dedicated to the art of Cucuteni, with its two basic components – decorative and figurative art – currently being exhibited as the most spectacular artefacts, which are real prestigious objects belonging to Precucuteni – Cucuteni Cultural Complex. Photo-documentary materials and three-dimensional objects belonging to all phases and stages of the evolution of this civilization throughout the area are also exhibited.
Among the two main domains which are main artistic exhibitions of culture creators of Cucuteni – pottery and plastics – painted pottery is considered its greatest achievement. Decorated primarily with geometric spiral meander motives, whose original significance cannot be deciphered today, painted pottery of Cucuteni successfully withstand to the most demanding examination and any comparisons not only with other ceramic from the ancient times in Europe, but with different achievements in the same field of folk arts of all time, being undoubtedly one of the brightest artistic manifestations of the Eneolithic era.
In addressing the figurative domain, the achievements of Cucuteni no longer measure their fame. Rare exceptions, especially when addressing animal themes, their reputation is somewhat saved. Even here, their geometric obsession is present, the human body being stylized to fit a geometric shape prescribed by religious and artistic canon. The main theme is the Great Mother presented in the posture of matron or virgin. Usually the feminine characters, which form the vast majority of representations, are modelled in a standing posture, with the bust leaning forward, arms reduced to small conical protrusions and head briefly outlined. The hips are broad, exaggerated, suggesting fecundity and fertility of the character.
The visiting schedule is between 09,00 – 17,00 (october – march). Monday is closed.
The visiting fee for children, students and enlisted men is 2 lei, for adults, individually or in groups is 4 lei. The fee for taking photos or videos is 10 lei.
Info tel. Cucuteni Eneolithic Art Museum: 0233226471