Sihăstria Monastery from Neamț County
25 January 2018
No Comment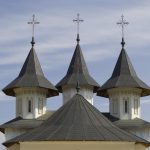 Sihăstria Monastery
Continuing our itinerary, only 3 km away, we come across one of the most blessed hermitages of the area, where the hermits secluded here from the Neamţ and Secu monasteries spent their life in humbleness and prayer, seeking peace and solitude.
Later on, the bishop Ghedeon of Huşi commissioned a hermitage in 1655, which was rebuilt between 1824 and 1826, of river stones and bricks owing to the efforts of Veniamin Costache, the Metropolitan Bishop. The then newly built church, dedicated to The Virgin's Birth, was built in the classical Moldavian style, and the gilded iconostasis was sculpted in lime tree wood.
To this monastic settlement, the chapel St Ioachim and Ana, the Virgin's Parents, was added in 1837, whose paintings were brilliantly crafted by the painter monk Irineu Protcenco between 1947 and 1953 and where two icons, e.g. Tânguirea Maicii Domnului and Ecce Homo, are remarkably characterised by the powerful realism in portrait painting.
Over the last decade, the monumental St Teodora of Sihla Church was added to the entire complex. Among the outstanding figures that lived here were the great confessors Ilie Cleopa and Ioanichie Bălan.
Photo Album
Video