Durău Monastery from Neamț County
7 February 2018
No Comment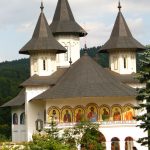 Durău Monastery
Commissioned in the seventeenth century by one of Vasile Lupu's daughter, the monastery was rebuilt in 1835, at the expense of some affluent tradesmen in Piatra-Neamţ.
The church – made of stone and brick – combined traditional Moldavian architecture with laic elements. However, the western facade – in neoclassical style – is decorated with a frontispiece with recesses, al fresco icons and an exquisitely carved oak portal.
The painting made a century on by Nicolae Tonitza has a special character both owing to the style and composition of religious scenes and to the difficult technique the artist used called hot wax painting, i.e. pigments mixed with heated beeswax. The gilded iconostasis was carved in lime tree wood and painted in Constantinople, and the silver plated icon of the Virgin Mary, a miracle-making icon, dates back to the eighteenth century. The fresco on the bell tower was painted by the archimandrite Teodor Varahil Moraru, a former Father Superior of the monastery, who retreated to Piatra-Neamţ when the monastic settlement was closed down during the Communist regime.
Photo Album
Video