Ceahlau Mountain enveloped in Baba Dochia's mysterious legend
28 February 2018
No Comment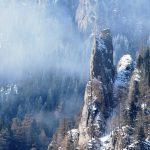 The 1st of March is approaching and beside the customs and traditions related to the trinket (mărțișor) the herald of spring, popular belief reminds of The Old Ladies' legend, associated with Baba Dochia, the one who brings winter. Once the weather gets warmer, from the 1st to the 9th of March, Baba Dochia starts throwing away her heavy coats.
The beginning of spring is a good occasion for the tourists who like trekking to climb Ceahlău Mountain. Up there, Dochia Cliff reminds of a beautiful legend. According to it, Dochia was a girl who was brought from early childhood to the convent situated at the bottom of Ceahlău Mountain, and when she grew up she became a nun.
One day, as she was walking and admiring the flowers from a clearing, close to the convent, Dochia met a handsome young man and fell in love immediately. The two lovers made plans together and were very happy. One day, Dochia waited for her prince but he never came. Another day went by, and another, and another and after nine days of waiting, the young man still gave no sign.
One day she found out that her prince had got married to another woman. The news came as a shock and impacted her so deeply that it clouded her judgment. She wandered around on Ceahlău Mountain for twelve days, crazy with loss and despair. On the twelfth day she climbed the big cliff and threw herself into the abyss. Eversince, the cliff is called Dochia and the first 12 days of March are symbolically known as the days of the girl's wandering.
The elders say that people would choose a day between the 1st and the 9th (or, in some cases, between the 1st and the 12th) of March and predict how the year ahead will be for them depending on how the weather is on the chosen day.
According to George Călinescu, Baba Dochia is one of the four fundamental myths that influenced the Romanian culture and spirituality, alongside Miorița, Meșterul Manole (Manole the Craftsman) and Zburătorul (The Flyer). Gheorghe Asachi, another famous Romanian writer, wrote The Ballad of Dochia in 1838, after taking a trip on Ceahlău Mountain.
Foto: