The Horăicioara Convent`s Spring, a place of healing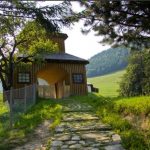 Isolated in the heart of the mountains, far away from the noisy world, The Horăicioara Convent (also known as "The Old Horaița") is situated all around Cracaoani Village. The Horăicioara Convent "is a eagle's nest hanging in the crack of an air cliff" as the famous Romanian writer Calistrat Hogaș recalled.
Not only is the place wonderful -a real oasis of peace and quiet- but is also believed to be a place where miracles happen. The monks and villagers say that nearby the convent there is a spring with healing water. They also say that a lot of people have been miraculously cured by drinking the water, over time.
The legend tells that a long time ago the monks prayed to Virgin Mary for a source of water and their prayers had been answered. A spring with pure water appeared no more than fifty feet from the convent`s church. The monks and the locals remember that one day, in 1877, a very sick woman had a revelation of Virgin Mary who  said to her: "Wherever you would find me, you will be healed, after drinking from my spring." Therefore, after having searched for the Holy Icon and water in all the well-known monasteries in Neamt county, the woman finally arrived at Horăicioara Convent. As soon as she drank from the miraculous water and washed her face, she felt like she was recovering.
It is said that the wonders have benn occurring at Horăicioara ever since, especially after 1990, when another woman regained her sight, after washing her face with the miraculous water.
There, in the stone church dating from 1868, the pilgrims can find the Holy Icon of Virgin Mary, which is believed to have miraculous powers. The convent`s celebration is held every year on "Izvorul Tămăduirii" (The Healing Spring Day), the first Friday, after Easter.
Photo Gallery: