Lake Izvorul Muntelui – the right place to spend your dream holiday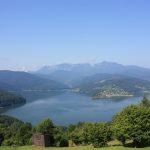 Lake Izvorul Muntelui – the right place to spend your dream holiday
The area of Lake Izvorul Muntelui is a beautiful region, a place where you can enjoy the magnificent  nature and the harmonios meeting between mountain and  water. The lake is also known as "the sea between the mountains". It is the largest reservoir on inland rivers in Romania, with a length of about 35 km and  a surface of about 32 km2. The lake extends its wide reflecting surface beyond a dam of over 120 m high.
Bicaz Naval Tourism Complex, located nearby the dam, is where boat trips across the lake can be arranged. Tourists can choose from a various ways of crossing the lake: by boat, sailboat, mini-yacht or water bike or they can also take a mini-cruise to admire the surroundings.
Photo gallery:
Crossing the surface of the lake is undoubtedly an unforgettable experience, as visitors get the chance to roll their eyes over unique, beautiful landscapes, as if they were painting a spectacular mountain view.
In the port, the boats get close to the reinforced concrete wall of the Bicaz Dam that's impressive through its size, being the largest weight dam on the inland rivers in Romania. Afterwards, you can admire the sight of the shore, the "waterfall" tunnel, which carries the water from Tarcău, the pier, the Ceahlău Massif. On sunny days one is to be enraptured by the perfect reflection of Ceahlău Massif in the still waters of Lake Izvorul Muntelui. You will also see Izvorul Alb (the White Lake) with Baicu area and its holiday cottages, tents and guest houses on the eastern shore of the water, not to mention the landscapes of Poiana Largului and the Poiana Teiului Viaduct. In the north, you will be able to cach sight of the cottages from Ceahlău village and the camping area, set in a small estuary, especially for the tourists coming here in summer.
Photo gallery:
In the port, the tourists can find a floating hotel, accommodation houses and a floating terrace where from  you can admire the lake in all its splendor, spending unforgettable moments here.
Lake Izvorul Muntelui is the only lake in Moldova where water sports are practiced, from ski to diving and it is the only lake on inland rivers in the country on which the "Navy Day" is celebrated.
Photo gallery:
Situated at the foothill of the Ceahlău Massif, the Izvorul Muntelui area stands as the starting point for lovers of mountain trips through the fir and pine forests, climbing up to the alpine pastures and gorges up to the ridges of the Ceahlău Massif which is, without traces of doubt, the biggest tourist attraction in the Oriental Carpathians, considered the second holy mountain of Christianity – after Mount Athos-  and the most praised mountain in the literary works of the great Romanian writers such as Alexandru Vlahuţă, Calistrat Hogaş or Mihail Sadoveanu.
Video: Izvorul Muntelui Dam and Reservoir