The Land of the Bison in Neamț County – internationally renowned touristic destination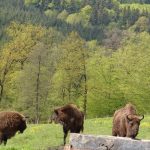 The Land of the Bison in Neamț County – internationally renowned touristic destination
Vânători-Neamţ National Park in Neamţ County is the only place in Europe where the bison, heraldic symbol of Moldovia and the largest land animal in the continent can be seen, in three kind of habitats: in the wild, in the zoo of the Park (where there are 6 bisons) and in the acclimation fold, where there are currently 14 bisons.
The process of releasing the bison (Bison bonasus), a legendary species of terrestrial mammals, into the forests in the northern part of Neamț County began in spring of 2012, when 5 bisons (3 males and 2 female) were released. Nowadays, after 6 years have gone by, there are over 36 bisons in Neamţ, of which 12 calfves were born right in the wild forests of the Park that extends on more than 172,973 acres.
Photo gallery:
The  initiative of repopulating the Vânători-Neamţ National Park with bisons is part of the project "Improvement of the conservation status of the bison species in the area of Vânători-Neamţ National Park", project financed under the European Regional Development Fund between April 2010 and March 2013. In the future, the authorities will take the necessary measures so that the entire northern part of the Eastern Carpathians to be able to host a large, viable population of bisons.
"The Land of the Bison" in Neamţ has been included in Top 100 Sustainable Destinations worldwide, since September 2017, in recognition of all efforts made to preserve the species. This is the only Romanian touristic destination awarded in this competition, attended by 57 different countries and assessed strictly by a group of about 60 experts. The global contest was organized by Green Destinations in partnership with other 20 international organizations working in the field of sustainable tourism.
Photo gallery:
Tourists are welcome in Vânători-Neamţ National Park where they can watch and admire the behaviour of the bisons in open space, inside the areal of the park and, if they are lucky enough, they can even track the bisons into the wild, using an especially designed program.