Ceahlău Mountain Festival – 45th edition: 3-4 August 2019
Ongoing preparations for the "Holy Mountain" Day – year after year, a beloved and long-awaited festival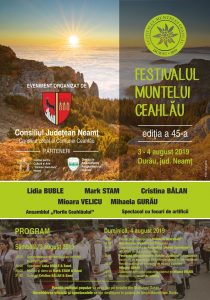 Photo gallery:
The beginning of August 2019 will mark the celebration of Ceahlău Massif. Thousands of tourists will gather between 3rd and 4th of August 2019 at the foothill of the mountain, in Durău Resort, where they enjoy 2 days of continuous celebration, singing and dancing with famous Romanian artists. On Saturday evening Lidia Buble, Cristina Bălan and Mark Stam will come on the stage. By tradition, Sunday will be dedicated to Romanian and international folklore, folk dances and a mesmerizing parade of traditional folk costumes on the streets of Durău Resort, reuniting participants and ensembles from over the world. In the last evening of the event, two much beloved folk singers, Mioara Velicu and Mihaela Gurău, will delight the audience with their songs of good-cheer. Of course, you shouldn't miss the spectacular fireworks show the organizers have prepared for the last night of the Festival.
Whereas at the foothill of the mountain the feast is held in musical accords and dances, on the top of this "gemstone" of Moldavia, also called "the Olimp of Moldavia", the Holy Mountain of Dacians, "Kogaion" or "Zamolxe's Shrine", tourists can observe two unique phenomena in the world: The Shadow of the Pyramid and the Stairway to Heaven (the Sacred Way). These make Ceahlău a turist attraction as interesting as the Stonehenge or the Egyptian pyramids. Thus, on holidays, many tourists choose to climb Ceahlău Massif, the only holy mountain in the country which has its dedication day on August the 6th, the same day when Christians around the world celebrate "The Transfiguration of the Lord".
Photo gallery:
The two phenomena have been observed since the earliest times: around August the 6th the people of these places went up on the mountain and witnessed the two wonders of Ceahlău, early at sunrise. In "Descriptio Moldaviae", Dimitrie Cantemir speaks of the Sacred Way and some scholars appreciate that through Toaca Peak (1904 m) passes one of the energetic meridians of the globe.
If you want to discover for yourself all this and more, we dearly invite you to climb the "Enchanted Mountain" and take part in a joyful celebration in Durău Resort, a natural oasis of breathtaking beauty, and we guarantee you a weekend to be fondly remembered! August 3-4.
Ceahlău Mountain Festival is organized annually by the Neamţ County Council, the Local Council of Ceahlău Commune in partnership with "Carmen Saeculare" Center for Culture and Arts in Neamţ and the Management Direction of Ceahlău National Park.
Photo Gallery, August 2018 edition: