Dacian Event at the Valley of the 12 in Neamț Land
Sunday, June 28, culture brings us together in the Valley of the 12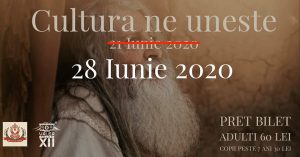 In Dobreni, Neamț County, you can find the Valley of the 12
Photo Gallery:
On Sunday, the 28th June of 2020, the place will be dressed up in celebratory clothes from the ancient times of the Dacian people. Tourists and visitors can enjoy a full day of unexpected challenges: blacksmithing works, sewing, embroidery and painting interactive workshops, archery and delicious foods from the times of the Dacians, Romans and Celts. The environment of those times will be recreated by the Dacian Culture Association from the Republic of Moldavia.
The entry ticket price is 60 lei for the adults and 30 lei for children aged over 7. Participants at the event will be delighted by the Dacian chefs with delicious meals cooked in a cauldron.
Photo Gallery:
A few cob houses built half underground and half on the surface, made out of mud, rocks, wood and covered in grass, reveal a fairytale world from the ancient times of the Dacians. Here lies the story of the fearless warriors. During those times the locals were forced to go to battle to defend their lands from the many invaders. The legend says that long ago, after a terrible fight, only 12 warriors survived and they built up a small village and in its center they put a tavern.
This is how the story begins… A story about amazing people in a beautiful place in Neamț Land, the Valley of the 12 in Dobreni.
Photo Gallery:
Sunday night will end up with a bonfire and with outlaw music.