Trei Fântâni Mountain Village – Photography event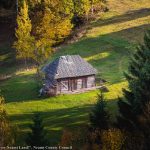 Trei Fântâni Village (Trei Fântâni), located at the foothill of Hăşmaş Mountain at an altitude of about 900 meters, is considered one of the most attractive and charming villages in Romania. The village belongs to the Commune of Dămuc and the name "Three Fountains" is taken after the three springs in the area. The villagers' houses are built according to the traditional mountain architecture. Located at the borderline between Neamt and Harghita counties, Trei Fântâni Village hosts about 100 families, mostly Hungarians.
No matter what season you come here, the area which is located just between the mountains is really a spectacular one. The locals are welcoming and warm-hearted people, and the stories they tell to everyone who's willing to listen lead the tourists into a different kind of wonderland. Here, one can finally escape from the pressure of daily existence, feel that different rhythm of life that can only be experienced in the countryside, and enjoy the really simple and healthy living. Villagers say that until 2000, not even electrical connections were brought into the picturesque village at the foot of the mountain.