Carpat Bikers MC Romania at the Valley of the XII in Neamț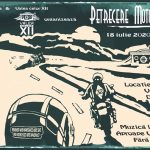 After the Dacian event at the end of June, Saturday, 18 July 2020, there will be another great party in the Valley of the XII. This time, the two-wheel adrenaline passionates from Carpat Bikers MC Romania will start a moto cowboy event.
All those present will delight themselves with tasty dishes and cold drinks and in the evening they will enjoy an exciting concert performed by Fără Zahăr and Aproape Unplugged bands.
Photos from The Valley of the XII
The fun will start at 12:00 and will last until late in the night.
More information you can get from the organizers:
Tel. +40.741.120.012
https://www.facebook.com/ValeaCelorDoisprezece/
The Valley of the XII is situated in Dobreni in Neamț County
A few cob houses built half underground and half on the surface, made out of mud, rocks, wood and covered in grass, reveal a fairytale world from the ancient times of the Dacians. Here lies the story of the fearless warriors. We are waiting for you in Neamt to learn more about picturesque places and meet great people!
Photos from The Valley of the XII