Keep fit and have fun! Pilates and zumba on the shore of Lake Bâtca Doamnei
"La Caiace" Leisure Complex opens the season of outdoor activities: all kind of sport sessions in open air are waiting for you to join in!
To stay in shape, make sure you save the date and come on Wednesday and Thursday evenings at "La Caiace", at the pontoon area, on the shore of Lake Bâtca Doamnei in Piatra Neamț.
GPS coordinates: N 46.930366, E 26.329895
Every Wednesday evening will be full of energy and excitement, in a fairytale-like scenery, since Alexandra ABICULESEI will be welcoming you to attend her pilates classes.
Schedule:
Wednesday | 7:30 PM – 8:30 PM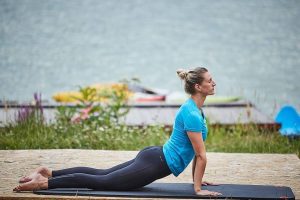 Sociable, cheerful, optimistic, determined, Alexandra badly wanted to earn a living by doing what she loves most, and her greatest satisfaction is to see people happy and proud of themselves at the end of the training.
Every Thursday evening, Cristina is waiting for you at "La Caiace" to discover the passion of dancing and enjoy the hot rhythms of Latin music! By combining aerobic sessions on fast and slow Latin music, the trainings will most likely lead to toned muscles, considerably a reduced number of calories and a general feeling of freshness. Not to mention the good vibes!
Schedule:
Thursday | 7:00 PM – 8:00 PM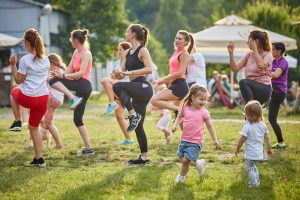 At Bâtca Doamnei, only a few kilometers from Piatra Neamţ, "La Caiace" Leisure Complex is a new concept that proposes its visitors with a variety of activities designed as an alternative to spending time relaxing in the middle of nature. It is here where tourists and locals alike gather to spend quality time together, engaging in water sports, leisure activities, cultural and artistic events, away from the hustle and bustle of the city.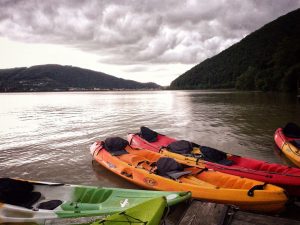 Photo credit: La Caiace
You can find up-to-date information on the events organized at "La Caiace" by visiting the facebook page: https://www.facebook.com/LaCaiace/
Phone: +40728 101 028