Toaca Peak – Stairway to heaven
14 October 2020
No Comment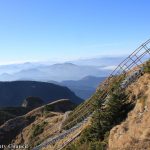 Standing higher from the mountains around and also because of its relative lonely position, Ceahlău Mountain, the Olympus of Moldavia  -as it is also known-  is the second Holy mountain of the Orthodox Christianity after Mount Athos. Here, as incredible as it may be, almost every rock, river or hidden place has a special name and story of its own.
The project of building the stairs towards Toaca Peak was initiated and integrally financed by Neamț County Council. It has over 500 steps. Going up the stairs, the tourists follow a route towards the sky from 1771 to 1893m high. Once at the top, the tourists can enjoy an amazing scenery, a beautiful landscape, so powerful and emotional that no one can put into words.
The construction materials for the entire work -metallic structure on wooden beams and resin grills- were brought by helicopter close to the Meteo Chalet and then carried by the workers till the top of the mountain. The works for this project took almost 2 years to complete and the stairs became available to the tourists in the autumn of 2018. The stairs have a leading role in preventing possible accidents and, at the same time, helping tourists gain an easier access towards the highest points of the massif. Therefore, the tourists can make the most of many wonderful landscapes in a safe environment and enjoy a spectacular bird's eye view over the farthest mountain tops and even over the sea, when the sky is crystal clear.