Bison Land in Neamț, once again included in Top 100 Sustainable Destinations in 2020
17 November 2020
No Comment
Vânători-Neamţ Nature Park is one of the most famous and beautiful green destinations in the world.
Photo gallery:
2020 is the fourth consecutive year when Bison Land micro-region has been included in the famous Top 100 Sustainable Destinations. It is worth mentioning that Bison Land is the only place in Romania to receive such worldwide recognition for the efforts to preserve biodiversity and encourage sustainable development.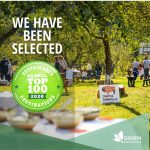 "We received the news with excitement. It's an honor, but also a great responsibility for us to continue our work to promote and develop this wonderful ecotourism destination in Neamț County… And we must admit all this wouldn't have been possible without the continuous cooperation at a local and national level… Besides our efforts being acknowledged at local level, we have a lot to learn from other micro-regions, which encourages us to aim for more and get to be internationally competitive", noted Viorela CHIPER, the manager of BISON LAND Association.
Eco Brunch, Agapia Commune, the 3rd of October 2020 / Photo credit: Gabriela COZMA
Bison Land is the only place in Romania that has been included in a top of sustainable destinations wordlwide, enjoying a well deserved place in an exclusive list, alongside Yellowstone Park (USA), Skyros and Sifnos Islands (Greece), Paphos Region (Cyprus), Scania Region (Malmo, Sweden), Gozo (Malta), Alberta SouthWest Crown of the Continent (Alberta – SouthWest Crown of the Continent, Canada), Azores Islands (Portugal), Transylvania County – North Carolina (Transylvania, USA), and so on. Among all these famous and highly sought-after tourist regions in the world, Bison Land in Neamț represents Romania. The criteria taken into account for ranking the destinations were: environment protection, landscapes and scenery, preserving cultural heritage, the degree of residents involvement in tourism related activities and promotion of local products. The nominations were strictly assessed by international experts in tourism and sustainable development, representatives of Green Destinations, QualityCoast, TravelMole, Vision on Sustainable Tourism, Travelife, ITB Berlin, Asian Ecotourism Network, Ecotourism Australia and GLP Films.
For the 2020's edition of the contest, the evaluation was based mainly on the quality, efficiency and transparency of the good practices promoted by the competitors, but also on community coagulation, biodiversity, environmental protection and sustainable development.
As an example of good practice we'd like to bring to recall the unique project of reintroducing bisons in their natural environment, a process that began early in 2012. Nowadays, about 50 specimens of the largest land animal in Europe roam free through the forests in Neamt. At the same time, the development of the tourist infrastructure, the quality of the experiences to be lived in the destination, and continuous increase of the local community's involvement in the process of developing and promoting Bison Land Ecotourism Destination are also worth to be mentioned.
Photo gallery:
Details about all the destinations included in Top 100 Sustainable Destinations 2020 can be found on the Green Destinations website: https://greendestinations.org/sustainabletop100/#1601975669457-3fb01f81-fcff
And so the story began….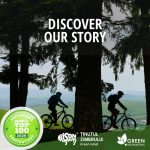 2005 is the year when the Management Centre of Vânători Neamţ Natural Park registered the trademarks "Ţinutul Zimbrului" and "Bison Land" at OSIM (State Office for Inventions and Trademarks), introducing for the first time the concept of the sustainable development of micro-region. Then, in 2009, the destination was granted European certification, on the occasion of its inclusion in the European Destinations of Excellence (EDEN) Network. In 2016 Bison Land became Romania's fourth ecotourism destination, and currently enjoys global recognition. It's the only tourism destination in Romania to be recognized as such for fourth consecutive years.
Bison Land ecotourism destination encompasses Vânători-Neamţ Natural Park, Târgu Neamţ town, Agapia, Bălţăteşti, Crăcăoani and Vânători-Neamţ communes. For the accelerated development of the area, Bison Land Association joined forces with Romsilva, the local authorities of the administrative units included in the destination, APDTN Valea Ozanei, EcoLand Association, Târgu Neamţ Tourist Information and Promotion Centre, and also local partners (guesthouses, local producers, craftsmen, educational establishments and other organizations) for the common goal of building a highly competitive, sustainable development tourist destination and increasing the welfare of local communities. The last 5 years meant tireless efforts to develop and promote Târgu Neamţ area. The touristic and economic development of the region is also favored by the collaboration with the Ecotourism Association in Romania, the network of ecotourism destinations in the country, and last, but not least, the support of the Romanian-American Foundation and the Partnership Foundation in Miercurea Ciuc through financial assistance of the Swiss-Romanian Cooperation Programme.
Discover the fascinating Bison Land, the local culture, customs and traditions, people and places! Once in Târgu Neamţ, you can visit the internationally acclaimed Neamţ Fortress, Ion Creangă Memorial House in Humuleşti, "Dragoş Vodă" Bisons and Carpathian Fauna Reserve, Nicolae Popa Etnography Museum in Târpeşti, Bălţăteşti Resort and Oglinzi Resort. Make sure you don't miss visiting the famous monasteries in the Stânişoarei Mountains: Secu, Sihăstria, Sihla, Agapia, Văratec, Horaița and Horăicioara.
Photo gallery: