Hangu in Neamț-"A Heaven's place on Bistrița's Valley"
23 November 2020
No Comment
Scattered houses upon the hills, some even hidden behind the majestic fir trees, rivers that pass through the villages from side to side, carrying with them unwritten pages from the ancient times of these places. Hangu area in Neamț County is of an astonishing beauty and it is also called "a Heaven's place on Bistrița's Valley".
Hangu commune spreads across the route from Bicaz towards Poiana Teiului along the Lake Izvoru Muntelui. Surrounded by mountains, it is also called by the locals "the Lake of Tears", because it conceals in its depths the pain and sorrow of those who once had to flee, taking with them their lifetime gatherings, leaving behind their beloved and full of memories places as a prey to the waters.
Photo Gallery:
Photo credit: Ionela Chirilă, Liliana Pîntea, Oana Georgiana Bocancea
Here in the great lake the majestic Ceahlău is also mirrored, considered the holy mountain of the Romanians, which will accompany you along the road. From Hangu, you will never get enough of admiring the Ceahlău Massif, that is sometimes caressed by the just risen Sun's sleepy rays of light, and other times you see it covered in a large hood of clouds. Or you can catch sight of the Toaca Peak that is softly touched by the red sunset's light. During winter, you can admire Ceahlău's huge crown of frozen snow.
Autumn is the season that especially highlights "Hangu Land". There are beautiful, colored birches coming everywhere you look, in contrast to the vast blue of the water and the infinite serene of the sky. In autumn, the fairy tales and legends of these places come alive and take you back to the old gatherings and evening sittings.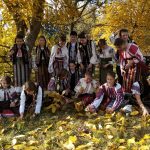 The traditions and customs of these places are passed along by the "Hangu Echo", a band of wonderful children who, by the help of their artistic activities, became ambassadors of Hangu commune and attended the "Outlaws Festival" and the "Winter customs and traditions Festival" in Grințies. The children also joyfully perform shows in various locations in the area. The tourists who have seen them at Lostrița Guesthouse, "La Bunica" Guesthouse or Grădinile Romane Guesthouse were extremely delighted and stated that the folk moments performed by the children transformed their holiday into a memorable one, because those performances made them discover the history and beauty of the places in an unexpected way.
Photo Gallery:
Photo credit: Liliana Pîntea, Hangu Library