Ceahlău Massif and how it may surprise you during December
15 December 2020
No Comment
The beauty of the "Enchanted Mountain" during winter
Ceahlău Massif, also known as The Olympus of Moldavia or the Holy Mountain of the Romanians is a particular mountain, full of history, spirituality, legends and mystery, both mentioned in the Romanian literature and in the foreign one.
Photo Credit: Alex Jitaru
Season-friendly surprises are waiting for you right at the foothill of the mountain, in Durău Resort. Although it is a year of restrictions, Santa Claus promised us that in December, the month of presents, he will be waiting for the children to come and visit him every weekend in Durău Park. So don't miss meeting Santa and come enjoy the winter holidays atmosphere! You should definitely try the sleigh adventure. If temperatures remain low, tourists will soon be able to ski in Durău Park.
Photo Credit: Durău Park
Ceahlău Mountain is situated in the middle of the Oriental Carpathians, in the western part of Neamţ County, at the crossroad of the most important Transcarpathian routes. Ceahlău or, as many also call it, the "Enchanted Mountain", is the place where many hermits have worked on their spiritual ascension and almost every rock, stream or secret passage has a story of its own. Thus, Dochia, Panaghia, Toaca, Dorobanțul, The Monks (Călugării), The Weeping Stone (Piatra Lăcrimată), Butu and Ana Towers (Turnurile lui Butu și Ana) or Detunatele are stone blocks with spectacular shapes, which have been subject of many beautiful ballads and legends collected, over time, by famous writers as Alecu Russo, Gheorghe Asachi or Calistrat Hogaş or transmitted by word of mouth by mountain lovers and people of these places.
A true natural fortress, Ceahlău Massif consists of large ancient forests, alpine meadows, gentle slopes and rocky cliffs, gutters and bricks, clear mountain streams, waterfalls, high peaks and isolated cliffs, natural monuments and nature reserves, as well as architectural monuments. Ceahlău dominates the surrounding mountains due to its relatively lonely position and its pyramid-like shape, which allows a great visibility from the distance.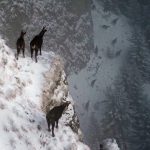 During winter time, the landscapes seem taken from fairy tales, and seeing the beautiful chamois is a true visual delight for the tourists.
Photo Credit: Septimiu Bizo
 Photo Gallery from the archives of Neamț County Council: