Swan lake in winter – Lake Pângăraţi in Neamţ County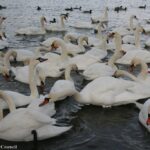 In recent years, Lake Pângăraṭi got a magic halo. Here, every day, hundreds of wild birds offer a unique water show to the locals, and also to passers-by. People stop by the lake to admire the wild swans and ducks that come to spend winters here every year.
The graceful swans catch everyone's attention because of their beauty and immaculate  plumage. Since the birds have been visiting Lake Pângăraṭi for several years now, they've become very familiar with the locals and it's a pleasure to stare at them up close.