Neamț Land – high in the top of European Destinations of Excellence on Social Media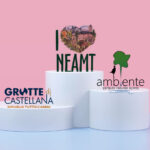 Significant increase of Neamț County's international visibility! Neamţ County is enjoying the best progressions among other EDEN destinations in Romania
An analysis based on statistical data conducted in the month of February 2021 showed that, during the pandemic year of 2020, Neamț County ranked three places higher in Top 15 favorite counties in Romania, regarding tourist arrivals, compared to the results of the previous year. Another statistical research, this time an international one, places our county amongst the best spots of the EDEN destinations, as far as the impact and visibility are concerned, as a result of its well targeted promotion on Social Media.
Photo Gallery:
Therefore, as a consequence of a recent statistical analysis made by the team of the European Destinations of Excellence Association (EDEN) from the beginning of 2020 and until the present date, Neamț County is on the 1ST place on YouTube, regarding the views of Visit Neamț Channel, showing a popularity increase of 84%. The YouTube Channel was initiated in 2009 and has been constantly promoted since then by the means of a continuous updating and uploading of new, interesting videos.
You can see the analysis chart below:
The statistics of the visibility dynamics of the European destinations that were under analysis gives us even more reasons to be happy, because Neamț County ranks leading positions and the visibility of the English Facebook Page Visit Neamt has a total increase of 39,2% in terms of views during the analyzed period.
At the same time, the number of followers of this page has increased, placing Neamț on the 5th position among the European Destinations of Excellence, with a number of 30.594 followers. As for the global visibility of Neamț, the county is also situated on the 5th place in a top of over 60 destinations included of the EDEN Network.
Photo:
 Neamț County is a member of the European Destinations of Excellence Association (EDEN) since 2008 and was the host of the 13th reunion of the EDEN Network in 2019, more precisely between the 10th and 12th of April. Back then, almost 100 participants from the 27 member countries came to Neamț and visited some of the most renown tourist attractions of the county: the Princely Court in Piatra Neamț, Bicaz Gorges, Vânători-Neamț Nature Park, Neamț Monastery, Nicolae Popa Ethnography Museum from Târpești village, Petricani commune.
Photo Gallery:
Joining the EDEN Network allowed our destination to benefit from wide international promotion, the information about Neamț County reaching millions of tourists (+6.4 million), as well as on international media (Forbes, Lonely Planet, Conde Nast, the Sun, National Geographic, Cosmopitan) and also among the tourism professionals. As a member of EDEN Network, Neamț County is also promoted by European Best Destinations, the most visited website for tourism in Europe.
All these outcomes come, naturally, as a result of complex promotional activities of Neamț County, the creation and permanent updating of tourism related content and products presented on various online channels: websites, mobile app and social networking pages managed by Neamt County Council, as well as their good visibility.