"Filmul de Piatra" Film Festival #13, in Piatra Neamț
26 August 2021
No Comment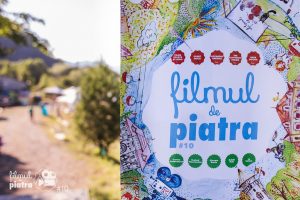 "Filmul de Piatra" Film Festival is back, this year, in Piatra Neamț. The 13th edition will take place on August 27, 28 and 29, 2021. So the festival weekend is near: an event that was launched years ago, in 2008, and that has set itself over time as an important pillar of both a cultural event in Piatra Neamț and as an event dedicated to young Romanian filmmakers.
"We gathered around hundreds of young people who took their first steps in the world of volunteering, film making and events planning. It is one of the few events in the region that has managed to have continuity, even when funding has been completely lacking. We overcame the hostility of the local press – which felt neglected, over the small administrators – who put us in trouble waiting to receive the so-called payoff, over the delays of over a year in the payment of funding approved by the City Hall. In the past years, we managed something that no other major film festival in the country has done before: we have managed to support ourselves from revenues and private sponsorships", stated Andrei Dăscălescu, the director and initiator of the festival.
Throughout its 12 editions, "Filmul de Piatra" has set itself as a reference event in the cinema world in Romania and the Republic of Moldova, becoming the most important short film festival for young authors and being a starting point towards the international movie market. Each year, around 50 authors of the competing movies films have been here in Piatra Neamț; they were joined by actors and team members, as well as audiences from all over the country. The festival also featured a series of special guests: jury members, film professionals (who held workshops, masterclasses or presented their own films), musicians and bands who performed during the festival. The list of all winners and jury members can be found online.
"Filmul de Piatra" Film Festival has created, each time, an interdisciplinary cultural experience, with multiple events and unique locations, from the top of Cozla hill to the courtyard of Calistrat Hogaș Memorial House, the Princely Court or the shores of Lake Bâtca Doamnei. In recent years, the festival has counted record entries of both films and volunteers, with over 200 young people from all over the country (and even from abroad) responding to the call of volunteering.