"La Caiace" broadcasted on TVR (Romanian National Television)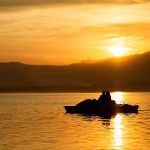 Cool oasis in Piatra Neamț
"A walk on Lake Bâtca Doamnei, on the outskirts of Piatra Neamț, can be the perfect choice during hot summer days. All you need is to follow a few simple rules and a little bit of courage" – this was the introductory phrase of a broadcast made by TVR (Romanian National Television)  last weekend.
If, in the past years, tourists and locals opted for pedal boats and kayaks on Lake Bâtca Doamnei, this year the offer also includes paddling on the lake, which is attractive even for young children.
In addition to the much-loved leisure activities, the lake on the outskirts of the city is a spectacular natural area, surrounded by forests, that hosts rare specimens of birds.
Watch below a short footage about "La Caiace", broadcasted on TVR:
https://www.facebook.com/stiri.tvr.ro/videos/178398410945725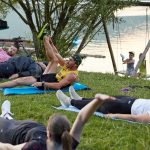 "La Caiace" (Kayaks) is also a location for leisure activities, artistic manifestations and events
Photo Credit @La Caiace // Maia Outdoor
"La Caiace" is also the place where, all summer long and also when the weather is fine, activities for young children, teenagers and families are available.
Photo Gallery:
Weekends attract tourists and locals to the lake with various events and artist performances. Such manifestations take place, most of the time, even after dark. Here tourists and locals can choose between various activities. Last weekend, TRADITIONS were "at home" right on the lake shores, as "La Caiace" turned into a handicraft workshop, where everyone had the opportunity to experience the joy of making handmade objects alongside the local artisans. And on Saturday, at sunset, Elena Shulea delighted the audience with her songs: "For me, folk music was the closest to my soul eversince I was a child! I have been singing since I've known myself", said, at one point, the artist from Neamț.
Photo Gallery:
Brazilian Music Concert by Mara Halunga & Cauê De Marinis Project
On the 11th of September 2021 a colorful, cheerful, but also slightly melancholic evening, with music genres from samba, MPB (Música Popular Brasileira) and of course, bossa nova, which will be exclusively in Portuguese, will take place for the first time at "La Caiace".
https://www.facebook.com/events/341983150809584/?ref=newsfeed