THE STORY OF SANTA CLAUS
23 December 2021
No Comment
THE STORY OF SANTA CLAUS
Once upon a time there was a very generous old man, who loved to wander around the world and to give gifts. He had an enchanted small flock of flying reindeer. And there were Christmas presents, elves and fairies. And they all lived in a small village, which originally existed in Lapland-Finland.
Then Santa thought he needed a milder climate. So he decided to move to a new residence in Romania, in Moldavia, in the commune of Negrești, in Neamț County.
He seriously documented himself about the geography of the place. It is close to the city of Piatra Neamț, very near to the historic town Târgu Neamț, where there are the Neamț Fortress and Ion Creangă's Memorial House in Humulești. Agapia, Văratec, Neamț, Horaița, Sihla, Horăicioara, Almaș, Bodești, Sihăstria and Secu monasteries are also nearby. And many other wonderful places that tourists can see and visit.
So, those who will come to meet Santa Claus at his house, can be his guests for several days and can make countless trips and hikes in the surroundings. In addition, they can attend various events, visit the neighboring Story Village, they can go home with many souvenirs and special tokens.
The project, "Santa's Village" will include a whole assembly of sites: the office, Santa's house, his post office, the stable and the workshops where Santa makes the toys with the help of the elves for the next year.
Santa's office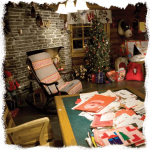 When he is not resting in his house full of joy, Santa Claus works in his office. Either reading the letters selected by the elves, or checking the Magic Book to see what the children put under observation by the Christmas elves are doing, or he is making sketches for the new toys that will be made in the workshop. The office is full of framed letters, diplomas, and newspaper clippings from around the world. In addition to all that, he keeps in his enlightened mind, he asked the elves to collect everything related to his voyage around the globe year after year.
Santa's home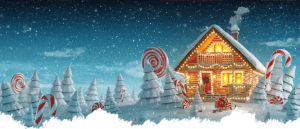 After several centuries spent in the freezing Lapland, Santa decided to settle down in a country with a temperate-continental climate. He chose Romania and, with the help of hardworking people, (elves, fairies, Christmas boys and girls), he built this wonderful house, made of hundreds of years old materials and in which you have now entered. It always smells of cinnamon, and various tea specialties, brought from all over the globe. Everything is carefully cared for and bears the glow of the time passing by. It's peace and quiet here. Only the ticking of the clock that counts the moments until the Great Night of Christmas Eve can be heard… Walk carefully and with your heart full of emotions in Santa's house! The good old man can hardly wait for you…
Santa's Post Office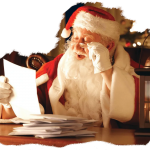 One of the busiest places in Santa's Village is the Post Office. Hundreds of letters from around the world are received here daily. There are elves and little girls who sort the letters and put them according to their origin countries and geographical areas. They are also looking for the name in the Book of Good Children, to tell Santa everything he wants to know about each child. You should know that there are birds and animals that go unnoticed in everyday life, which check upon every child's behaviour: if he eats everything from he's plate, if he is polite, if he has good grades. If all goes well, his name is written in the Book of Good Children.
Santa's reindeer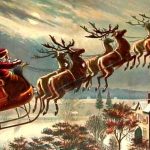 Because the story wouldn't be complete without news about Santa's reindeer, you should know that Rudolf, the one with the bright red nose, is in charge of the team, and the rest of it consists of: Dasher, Dancer, Prancer, Vixen, Comet, Cupid, Donner and Blitzen. Each has an interesting story. For example, Comet once saved Santa's sleigh from colliding with a comet by taking the comet in his horns and throwing it back into the universe. Blitzen is an "electric" reindeer, because he has been struck by lightning several times and he is now charged with electricity. Santa sometimes uses him as a compass.
Gift wrapping workshop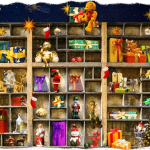 It may seem like a game to some of you, but gift wrapping is a real artistry thing. There are special techniques for this, and the Santa's Christmas helpers receive this skill from generation to generation. They work for a long time so that each gift is nicely wrapped, and the fairies sprinkle magic dust on it. The magic dust helps Santa not to be seen when he places the gift under the decorated Christmas tree.
For more details about the opening hours of Santa's Village, as well as many other information, we invite you to access the link https://satulluimoscraciun.ro/en/