The Transnational Cultural Tourist Route of the wooden churches in Romania and the Republic of Moldavia internationally awarded
10 December 2021
No Comment
"Wooden churches route", awarded internationally, also includes the beautiful village treasures of Neamț.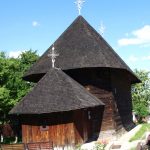 The journey on the Transnational Cultural Tourist Route of the wooden churches in Romania and the Republic of Moldavia takes you back in time, through over hundreds of years of history and cultural events. Basically, on this route, you embark on an extensive process of discovering the essence of the community spirit, its artistic creativity and, why not, of your own soul.
Thus, along the entire route, on the surface of 16 counties in our country and 3 districts across the River Prut, tourists encounter ancient traditions that tell the story of popular genius and unity of the nation, through all the decorative, artistic and conceptual baggage of objectives met.
For all this, the international recognition came this fall by awarding the second place to the Transnational Cultural Tourist Route of wooden churches in Romania and the Republic of Moldavia, within the " Destinations of Sustainable Cultural Tourism 2021 contest, organized by the European Network for Cultural Tourism, The European Commission for Tourism being also one of the partners.
"Those who dare to go through the entire route have the opportunity to learn, live and take part in a meaningful, engaging and memorable experience, which can be customized according to everyone's interest. All these unique features have brought it notoriety, including internationally", MEET representatives state about the travel experiences offered by this route.
This is one of the most important initiatives to promote tourism in recent times, developed by the Ministry of Economy, Entrepreneurship and Tourism (MEET), in collaboration with the Investment Agency of the Republic of Moldavia.
The awards ceremony took place in October in Athens, Greece, during the 14th edition of the conference " Revitalizing European Tourism through Culture, Heritage and Creativity ".
The route includes wooden churches from the counties of Bihor, Cluj, Maramureş, Satu Mare, Suceava, Neamţ, Arad, Mehedinţi, Ialomița, Timiș, Hunedoara, Bistrița Năsăud, Constanța, Argeș, Botoșani, Bilbor commune, Toplița, Vaslui. Regarding the districts from the Republic of Moldavia, it remains up to local public authorities and tourism / culture associations that promote wooden churches from those areas.
Its expansion as a national and especially international route is possible, due to the fact that the wooden churches in Romania are part of the family of wooden churches in the North of the European continent – Ukraine, Slovakia, Poland and Norway.
The route, as a whole, is the instrument through which cultural tourism, together with other forms of tourism, will help the sustainable development of rural communities.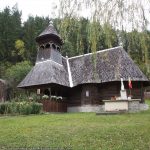 "The existing wooden churches appear in front of the contemporary traveler as anachronistic architectural forms, coming from the past, as a testimony of an ancient way of life and religious faith. Anyone who enters such a place is impressed by the place's beauty (…)
The small wooden church, in its size and the simplicity of an ordinary dwelling, was one of the first forms of the "house of the Lord," probably dating back to the beginnings of Christianity. "The church was the sacred place that comply with the spiritual needs of the Christians to gather and to attend to the spiritual ceremonies. The Church also provided the means for the people to be united and connect with the divinity, being the most important source of enlightenment for the soul and nurture for the mind." Dr. Elena FLORESCU, Dr. Marina SABADOS, Cornel MIFTODE – Old wooden churches from Neamț County, CMIMAGO publishing house, 2012, Piatra Neamț
Village Treasures – Old wooden churches from NEAMŢ county