Traditions and customs at the Christmas Market in Neamț
29 December 2021
No Comment
Learned by doing over centuries and often connected to faith, customs, which deeply penetrated the collective consciousness, are still observed today in Neamţ villages. Customs have been strongly preserved owing to their value that stood the test of time, and have been accepted by the entire community.
Children or young people that go caroling singing, the Star songs and the theater on religious themes are part of the performances that take place at the Christmas Market in Neamț. The New Year is greeted with Plugușorul, the ox, the bells and even the plough pulled by the oxen, and then the Sorcova and the mask dances can be seen: the goat, the deer, the bear, the dance of the Căiuți (horsemen) and the outlaw theater.
In this edition of the Christmas Market, the mask show bands and the folk ensembles "Codrii Neamţului", "Florile Tarcăului" and "Floricică de la munte", the folk ensemble "Comorile Neamţului", the Group of Winter Traditions and Customs "Sumănarii de la Trifeşti", but also the Group of Winter Customs and Traditions "Răzeşii Cracăului" will be performing.
The images show the beautiful and spectacular way that these customs and traditions are taking place. The present artistic and cultural performances have successfully managed this year to replace the traditional Festival "Steaua sus răsare!", which did not take place in the current edition of the Christmas Market and in the past one due to the pandemic conditions.
Photo gallery:
The customs of the winter holidays form the longest, richest and happiest cycle of folk manifestations. They represent the living archive of the inhabitants' spirituality, better preserved in Moldavia and especially in the Neamţ County villages. The winter customs and traditions of this area make out of Neamț County a various and rich repertoire, impressing with their thematic winter holidays messages, costumes and music.
Many foreign travellers and Romanian scholars highlighted the rich variety of folk music and dance in the area. Dimitrie Cantemir noted, "Moldavians have over a hundred various dances and some so exquisite that the dancers seem not to touch the ground but they appear to be flying."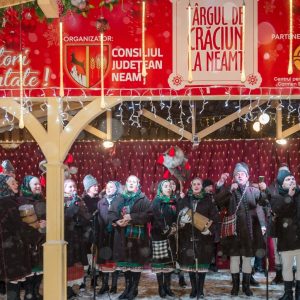 ARTISTIC PROGRAMME until the end of the Christmas Market in Neamț
Tuesday, December 28, 2021
16:30 "Roxi's Music Team"
Wednesday, December 29, 2021
16:30-17:45 "Comorile Neamţului" Folk Ensemble (choreographer, Anda Acristinei)
Thursday, December 30, 2021
14:00 "Zestrea Bacăului" Folk Ensemble
17:00-18:00 "Codrii Neamţului" Folk Ensemble (choreographer, Sebi Coroi)
Friday, December 31, 2021
16:00 Daiana Vinca and the vocal group "Cetiniţa"
Saturday, January 1, 2022
16:30 "Sumănarii de la Trifeşti" -Group of winter customs and traditions
17:30 "Floare de Colț" ("Edelweiss") Georgiana Axinte
Sunday, January 2, 2022
16:30-17:30   "Brâu Roș" -Folk Ensemble from Piatra Neamț
18:00 "Răzeşii Cracăului" -Group of winter customs and traditions