Neamț County is now worldwide recognized
Bison Land takes Romanian tourism on the podium, to the highest level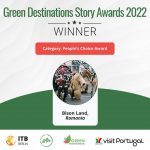 The date of March,11 2022 has a great significance because it marks for the tourism in Romania an unprecedented prestige and Neamț County is the one to make this happen.
Bison Land, is the only destination from Romania, which has been in an exclusive worldwide top since 2017, reaches in 2022 the first place in the world, in the same 100 Sustainable Destinations Top, in the public vote category.
The announcement was made at the online Green Destinations Story Awards 2022 ceremony, which presents and celebrates the most inspiring stories of strong lasting tourism practices from the Top 100 Sustainable Destinations in the World. The ceremony was organized by Green Destinations in partnership with GLP Films and ITB Berlin and hosted by Visit Portugal.
https://www.facebook.com/tinutulzimbrului.ro/videos/339360978132419
The local press wrote about the event in an extensive article in which Viorela Chiper, the manager of the ecotourism destination Bison Land, spoke about the great success of Bison Land this year, a success that is backed up by a whole series of good practices of conservation and promotion of values and a whole community involved in the development of ecotourism in Neamț. The journey hasn't been short or easy. It has been 6 years since the Bison Land Association was founded and 10 years since the first bisons were released in the forests of Neamț.
After going step by step on the specialists' appreciation ladder, after being presented to tourists, after being promoted by the whole community and the Neamt County Council, through the Tourism Department, the public was the one who had the final word regarding Bison Land, as seen below:
The online poll took place from the 4th of January until the 9th of February 2022, and this year, out of a total of 10,000 votes in this category, Bison Land in Neamț received the most votes, respectively: 1,726.
There were 17 award-winning destinations in the seven categories, including ITB award, producers, tourism recovery, environment and climate, nature and ecotourism, communities and culture, public vote.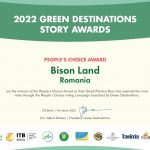 Bison Land won the "public vote" award and is the only ecotourism destination in Romania included in the top of the most sustainable destinations worldwide, since 2017.
This year's competition was attended by participants from America, Africa, Oceania and Asia, and from Croatia, Germany, Malta, Portugal, Spain and Sweden in Europe.
Last year, thanks to online voting, Bison Land ranked second in the world, a destination in Chile ranked third and one from Turkey was on the leading place in the Destinations' Top.
The ecotourism destination Bison Land overlaps with the Natural Park Vânători Neamț, Târgu-Neamț town, the communes of Agapia, Bălțătești, Crăcăoani and Vânători Neamț. Several associations and local partners (guesthouses, local producers, craftsmen, schools and organizations, etc.) have worked together to improve the area, with the objective of sustainable development of the micro-region.