The longest and most modern adventure route in the country is waiting for you in Neamț County!
Via ferrata "Astragalus" in Șugău Gorges – Munticelu Nature Reserve
The adventure season is now open in the Neamț nature reserve, that is unique in Europe and in the world, meaning hundreds of meters of alpine trails in a breathtaking landscape, a mountain trail equipped with metal soffits, steps, anchors that ease climbing the more difficult parts of the trail for you to reach the mountain peaks.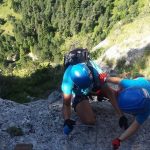 "The mountain no longer belongs only to the professional climbers, but it also belongs to the wide public"-Ticu Lăcătușu used to say, the well-known climber and the first Romanian that reached the top of the Everest and the one who founded Via Ferrata ASTRAGALUS in Neamț, a project of Romanian Mountain Club that is mostly supported by HeidelbergCement.
Set up during 2015-2016 and opened to the public in the summer of 2017, the via ferrata in Neamț offers 5 ascending types of trails, of different lengths and difficulties, of which the main route is 700 meters long and the level difference is 285 meters.
The national and local press have promoted the initiative and, this way, the tourists found out about the rocky area of ​​Neamț, with its wild appearance, with canyon-shaped gorges, the longest and most modern via ferrata in Romania, ideal for mountaineering, climbing, caving and hiking.
In the 60's, in the Dolomites, these routes began to be used by tourists.