In memoriam of beloved photographer and artist Ioan Clopotel
14 September 2022
No Comment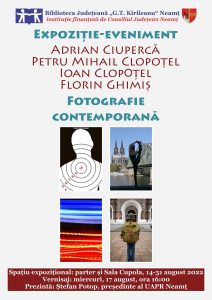 Hundreds of photo books, thousands of films and photo albums, millions of photos, dozens of articles and pamphlets written in the local press, theatre performances with great actors of the Romanian stage, all these and many more speak of an emblematic figure of Neamt County: Ioan Clopotel, the photographer artist. The man who granted eternity to so many moments, who had the grace to see Beauty, to capture it with his lens and to pass it on to the sheer joy and delight of the people, has recently surprised a whole community with his departure, which came as a bolt of lightning. Still, he left behind one more gift: an exhibition of contemporary photography, printed at large scale dimensions, featuring artworks of his son, Petru Mihail Clopotel, and of two dear friends: Adrian Ciupercă and Florin Ghimiș.
"We hope to capture the interest of local photography enthusiasts, whom we heartily invite to the attend the opening of the exhibition. The artworks are of appreciable size and cover multiple genres, trying to establish links with the most interesting and recent photographic tendencies and currents in the field of "Image Hunters", declared Ioan Clopoţel.
However, he didn't have time to enjoy the opening, the warm meeting with all those who appreciated him, because, as his wife, Mirela Clopotel, said: "Ioan Clopotel, the "chronicle photographer", has taken a long break from now on. He will no longer roam the streets of the city he loved so much. Perhaps he will wander through our thoughts, the mind and hearts of those who knew him, appreciated him, and dearly loved him. The pictures and films that he made will remain living testimonies of unique life moments, and -why not?- anchors to certain moments in time, a merciless time that no longer has "patience with people".
On the 31st of August 2022, "G.T. Kirileanu" Neamţ County Library hosted the closing of the Contemporary photography exhibition, dedicated to the memory of beloved photographer and artist Ioan Clopotel.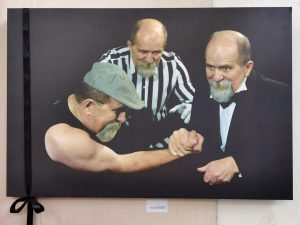 "Character of rare generosity, Ioan Clopotel was one of our library's best friends. He represented to all who knew him a GREAT MAN, who irrevocably left his mark on the life of the comunity. The family welcomes all those who enjoyed his friendship and cherished him to attend the gathering. He wanted to organize the exhibition with all his heart, which he paneled with his own hand, but, unfortunately, he never made it to the opening. May God rest him in His Eternal Light and Peace!", said Proffesor Mihaela Mereuță, manager of "G.T. Kirileanu" Neamţ County Library.
The exhibition was arranged in the Cupola Hall and was opened to the public between August 16-31, 2022.
Artist and man of culture, constant presence in the narrow circles of intellectuals and cultural personalities in Neamț, Ioan Clopotel was, over time, an actor, orator, poet, journalist, but most of all he loved being a freelance photographer.
"Character taken from a story", as the representatives of The Messenger (local press) called him, Ioan Clopotel was also "a true image chronicler of everything that happened in Neamţ County after 1989. He died on the 24th of August 2022, following a stroke on the 15th of August, just after participating in the celebration of the Nativity of Mary and Navy Day in Bicaz port. He was hospitalized at ICU of the Neamț County Emergency Hospital, where he managed to partially recover and breathe on his own, and was then transferred to the Neurology Unit. He was lucid, but with semiparesis. He had just turned 70 this summer." (The Messenger)
The last event he participated in, also on the 15th of August 2022, was the first edition of "Alexandru cel Bun" National Painting Symposium Exhibition, hosted by "Lascăr Vorel" Art Gallery, where Ioan Clopotel exhibited alongside other well-known artists in Neamt: Dumitru Bostan jr., Ștefan Ioan Diaconu, Gabriel Grama, Dinu Huminiuc, Radu Cristian Macavei, Neculai Moroșan, Ștefan Potop, Ionel Cristinel Prisacaru and Lucian Tudorache. Details about the event and the last photos in which Ioan Clopotel was captured can be found in the article written by Violeta Moșu, in "Dor de Neamț": http://dordeneamt.ro/2022/08/15/expozitia-simpozionului-national-de-pictura-alexandru-cel-bun-editia-i-la-galeria-lascar-vorel/
The news of his sudden departure from this world fell like a thunderbolt on the family and all who knew and appreciated him, and the press immediately reacted:
"A real fairy tale character" (The Messenger)
"Without Ioan Clopotel, the streets of Piatra Neamț will be emptier" (adevarul.ro)
"An artist by nature and soul, he was one of the emblematic characters of the city. With the camera always hanging around his neck, with the famous bag in which he had everything, including the photos he gladly shared and which many residents keep in their family albums." (monitorulneamt.ro)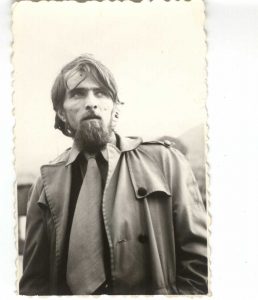 "He learned the art of photography all by himself, initially as a way to earn a living during the communist regime, when the Secret Police tracked him since his student days, suspecting him of actions against the regime. He later grew to love photography and could be seen at almost any private or official event. On the 17th of August 2022 he was going to welcome the guests at the opening of his first exhibition as a photographer, together with his son and other good friends." (The Messenger)
"My dear Clopoţel, we shall meet again one day, when the time comes. I will surely find you in Heaven, in full action, tough, sensitive, radical, sick with fairness and generosity, taking pictures around. Do you even realize how many mutual friends, who left this world earlier, are already organizing your Welcome Committee? You closed a unique page in my life today. I didn't expect you to leave so quickly. I rewind the film of life decades spent together and how much you've enriched me, personally and professionally, through your dedicated friendship. And for all that, I bow to you. God be with you always, my dear friend!" (Viorel Cosma)
Perhaps the best-known photographer in Neamț County and certainly one of the most beloved, Ioan Clopotel has captured the beauties and realities of Neamţ for a long, long time. So many residents in Piatra Neamţ have at least one photograph signed by Ion Clopotel at home. Present at most events in the county, he was among the professionals who lived exclusively from photography. And he lived this art until his last days, when he managed to organize this exhibition.
Among the many valuable legacies he left behind, two years ago Ioan Clopotel created "Neamțul în imagini de colecție", a video consisting of various pictures from the private collection of  N. Teodorescu, famous teacher in the 1920's, a collection which was donated and is currently hosted by the County Directorate of the State Archives.
Ioan Clopotel
Ioan Clopotel, son of Ioan and Maria, was born in Bacău on June 28, 1952 and died on August 24, 2022, just two days after his 30th wedding anniversary.
He completed his primary and secondary school in Vânători, near Piatra-Neamț, and was an award-winning student.
The years of high school at "Petru Rareș" National College were a prolific period, when he benefited from the guidance of visionary, elitist teachers. It was a period of great cultural accumulations through reading.
He also got involved in various extracurricular activities, such as the Literary Cenacle and theatre activity, which are still remembered by his former classmates, who gathered the other day and recalled memories about the teenage rebel.
He graduated from the Faculty of Mechanics and Technology within University of Pitesti and, two years ago, completed his master's studies at the Faculty of Visual Arts within "George Enescu" University of Arts in Iași.
He was married for 37 years to Mirela Clopotel.
Children: Nirvana, Petru-Mihail, Maria-Justina.
Main job: freelance photographer.
Passions: acting, cinematography, oratory, poetry, politics, journalism.
He wrote dozens of articles in which he adopted a critical stance towards dysfunctional social aspects, articles that he himself classified as pamphlets.
He made hundreds of photo books, thousands of films and photo albums, millions of photos, played in various theatre shows, even with great actors of the Romanian stage, and now he left the stage of life in a round of applause.
UPDATE:
You can watch the full recording of the closing of the Contemporary photography exhibition, dedicated to the memory of beloved photographer and artist Ioan Clopotel, by clicking the link below:
https://www.youtube.com/watch?v=lclGeucMLlY&feature=emb_title