We are awaiting for you to join the 2nd edition of "B.Zone Folk Music Festival", between 10-11 September 2022
2 September 2022
No Comment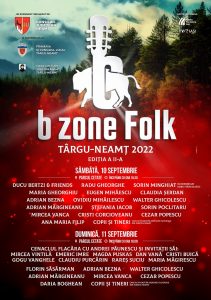 Two days of amazing outdoor folk performances in the park of Neamţ Fortress, Târgu-Neamț!
B.Zone Folk Music Festival is a cultural concept that brings together, in Târgu-Neamț, the heart of Moldavia, artists from all over the country.
Cenaclul Flacăra led by Andrei Păunescu and his guests, including Mircea Vintilă, Emeric Imre, Magda Puskas, but also Ducu Bertzi, Radu Gheorghe, Adrian Bezna, Adrian Mărgineanu, Walter Ghicolescu, Mircea Vanca are just some of the artists who will take the stage at this edition. Along with them, the public will enjoy performances by young artists, members of cultural associations from Neamț County, and fans of the genre.
The festival is organized by Neamț County Council in partnership with Târgu-Neamț City Hall and "Ion Creangă" House of Culture in Târgu-Neamț and aims to bring folk music to the attention of the public, especially young audiences. During the festival, children and young performers from Târgu-Neamț and the surroundings will sing on the stage. There will also be talent shows, meetings with famous folk artists, organizers of festivals and events, media representatives.
The first edition of the " B.Zone Folk Music Festival" was organized in 2019 and gathered a large number of spectators, being intensively promoted online and included in the main calendar of musical events in Romania. In 2020 and 2021, the festival could not be organized due to the pandemic.
Photo gallery B Zone Folk Romania, 1st edition:
Two days of outdoor folk performances can also be a good opportunity for a trip to a wonderful area in ​​Neamt County, where the bison reigns, and you find the largest number of monasteries and hermitages in Romania. Once you're here, you will feel a special, unique vibe that comes from afar, having its roots in ancestral traditions, impressive history, culture and spirituality of these places.
Whether we are speaking about Neamț Fortress, Ozana "the beautifully flowing river", Ion Creangă's House, the many historical, ethnographic museums and memorial houses, the  delicious food from Moldavia, accompanied by the charming stories of the local people, the trip to Neamt will bring along great memories to share. It will be like a multidimensional photography that will remind you of the places you ventured in, the tourist attractions you visited, how you felt like, what you tasted, smelled or learned about.
Come to Neamt! Dare to explore! It will be a meaningful, memorable, energizing experience!