Excellence Awards for Neamţ Tourism Promotion and Development
21 October 2022
No Comment

Each year, the North-East Regional Development Agency awards tourism associations or organizations that have shown outstanding innovation and achievement in the development and implementation of tourism programs or original initiatives that have resulted in positive media recognition or increased participation from visitors. This year, "Discover Northeast" Gala was organised in Gura Humorului, between 22 -24 September, 2022.
The constant concern and sustained efforts of Neamţ County Council and its partners, public institutions and private agents, to ensure the best visibility of Neamt Land as a tourist destination, with its vast natural, cultural, and ethnographic heritage, led to an important recognition and the receiving of excellence awards at the 7th edition of "Discover Northeast" Tourism Gala 2022.
An active part of Romania's and Europe's unique heritage and identity, Neamţ County is a land brimming with history, culture, and traditions, completed by truly spectacular landscapes, amazing places of worship, numerous museums and memorial houses, thus becoming an increasingly important landmark for the transformation of the North-East Region into a top tourist destination.
Among the events, projects and activities carried out by Neamț County Council with the aim of further developing and consolidating the tourist sector, some of our most recent and impactful achievements were awarded with Diplomas of Excellence. Neamț County Council received an award for the recent launch of the film "Journey into Bison's Kingdom", which captures the essence of Neamţ County as a tourist destination, and of all the elements that make it beautiful and attractive to visitors. The film is complex both in terms of the range of tourist objectives included, as well as the diversity of the thematic areas addressed and the overall harmony of the video footage.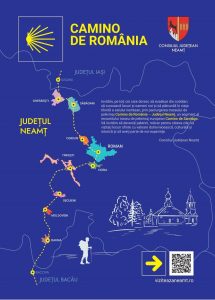 Also, Neamț County Council was given a Diploma of Excellence for "Camino in Romania – Neamţ County" Pilgrimage Route, which is part of the famous El Camino de Santiago European Cultural Route, an ancient road annually travelled by approximately 350,000 pilgrims from 160 countries. The route on the territory of Neamţ County was set up in partnership with Iași County Council and Bacău County Council, and crosses 19 localities, undoubtedly increasing the image and exposure of and the North-East Region as a top tourist destination, stimulating the economic growth of local communities.
Another project that received due praise was that of building the stairs towards Toaca Peak in Ceahlău Massif, a project initiated and integrally financed by Neamț County Council. Climbing the stairs of over 500 steps, tourists go from an altitude of 1771 to 1893 meters, enjoying an amazing scenery. The stairs have undeniable role in mountain accident prevention. The stairs on top of Toaca Peak are the only ones in Romania at such a high altitude, being also one of the most visited tourist attractions in Neamţ.
The organizers of the event also awarded Diplomas of excellence to private entities in Neamţ activating in the tourism sector, which carried out remarkable actions to diversify the means of promotion and internationally increase the tourist visibility of the region, including by passing on the local values ​​and traditions. Thus, distinctions were given to Bison Land Association, Valea Bistriței Association, "Produs în Neamț" Cluster Association, "Carmen Saeculare" Centre for Culture and Arts in Neamț, History and Ethnography Museum in Târgu-Neamț, Private Ethnographic Museum in Tazlău, "Olga Mavrocordat-Sturdza" Private Ethnography Museum in Grințieș, Aviasport, Valea celor XII, Hanul Ancuței, Grădinile Romane Guesthouse, Via Ferrata Astragalus, BikeTrip, Durău Park.
In addition to the nominees, there are still many other operators in Neamţ which have demonstrated a willingness to work hard to improve their services and provide tourists with superior quality tourism experiences. They all deserve appreciation and recognition for all their best practices. All of them, along with the public administrations bodies, substantially contribute to to highlighting the unique identity of Neamt Land as an European Destination of Excellence.