Bicaz and Vânători-Neamț were declared tourist resorts of local interest
17 January 2023
No Comment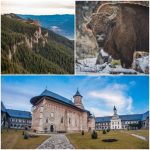 Bicaz town and the tourist area of Vânători-Neamț commune are among the newly declared tourist resorts of local interest, certified by the Ministry of Entrepreneurship and Tourism in December 2022.
Bicaz town is located in the Western part of Neamț County, at the foothill of Ceahlău Massif, on the banks of River Bistrița, only few kilometers away from the famous Bicaz dam, that holds back the waters of Lake Izvorul Muntelui, the largest reservoir on inland rivers in Romania. From natural attractions, amazing landscapes, and areas of leisure interest, Bicaz is a focal point of attraction for tourists and visitor coming to Neamţ.
From Izvorul Muntelui village, tourists can choose between 3 routes to hike on top of Ceahlău Massif, thought to be the second holy mountain of Christianity, after Mount Athos. The routes are as follows: 1. Lutul Roșu Saddle –> The Nuns' Glade –> Miron's Rocks –> The Edge's Steep. High on the plateau of the massif, tourists can rest and enjoy the view at Dochia Chalet, or climb the stairs towards Toaca Peak.
From Bicaz you can embark on trips to Bicaz Gorges and Red Lake (Lacul Roșu) Resort. Hiking lovers have 18 mountain trails to explore, that cross Bicaz Gorges, a natural attraction with unique landscapes. The wild aspect of the gorges, the massive limestone walls that make way for a serpentine road of rare beauty, is spectacular not only for tourists from the country and abroad, but also for climbing enthusiasts.
Particularly picturesque landscapes can also be seen while riding the car from Bicaz to Poiana Teiului village, following the shoreline of Lake Izvorul Muntelui.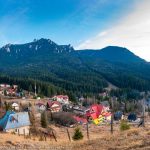 Durău Resort is another gateway to Ceahlău Massif, and the starting point for other 2 hiking trails to Toaca Peak. The resort is only half an hour away from Bicaz town, and tourists can take 155F county road (also called the Axial Route) that actually crosses the mountain, connecting Izvorul Muntelui and Durău Resort, both located at the foothill of the majestic Ceahlău Massif.
The local authorities and tourism entrepreneurs are already taking the necessary steps for Bicaz to become tourist resort of national interest.
The tourist area of Vânători-Neamț commune, recently included among the tourist resorts of local interest in Romania, is also an important landmark of Neamț County for the many cultural and spiritual values it encompases. There are several monasteries and places of worship around: Neamț Monastery, Vovidenia Monastery, Sihăstria Monastery, Sihla Monastery, St. Teodora's Cave, Sihla Monastery, Secu Monastery, Icoana Veche Hermitage, Mihail Sadoveanu Memorial House and Vasile Găman Ethnographic Museum and many more places of worship and impeccably preserved local cultural values.
Vânători-Neamț Commune is part of Bison Land Ecotourism Destination, adjacent to Vânători-Neamț Nature Park which is included, since 2017, in Top 100 Sustainable Destinations Worldwide.
Up to now, 54 tourist resorts of national interest and 147 tourist resorts of local interest are certified in Romania. Bicaz town and the tourist area of Vânători-Neamț commune are among the 35 newly attested resorts of local interest in the country, certified in December 2022.
Given the recent certification as tourist resorts of local interest, the two areas in Neamt, Bicaz and Vânători-Neamț, will have new opportunities for development, attracting investors and obtaining financing for various projects, in order to maximize their tourist potential, and increase the number of visitors. What is more, these destinations will also be eligible to be taken into account when initiating the reform of DMO's in Romania. Both public authorities, private companies, and NGO's within each area will have the possibility, complying with the minimum criteria imposed by the legislative framework, to establish and run DMOs at the local level.