Bison Land from Neamț County can win "Destination of the Year Award 2023". MAKE SURE YOU CAST YOUR VOTE!
When we say Bison Land, we think of: culture and traditions, folk art and spirituality, numerous tourist attractions, amazing holy sites, monastic settlements and villages, European pilgrimage routes, but also festivals, eco-brunches with tasty local products and folk art workshops, to mention only a few. Over all, Bison Land is a tourist destination the uniqueness of which is due to a particularly hospitable and united community living inside its borders.
A bison safari through the forests in Neamț gives you the opportunity to observe, get close and enjoy the encounter with a real bison (which weighs about a ton), one you can find in the nature park, assisted by a ranger, on foot or by car, in the wild or in semi-freedom.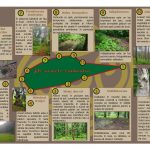 The shortest route takes about two hours and is of a medium level of difficulty. Of course, in addition to encountering the bisons, visitors can also observe other wild animals from the rich fauna of Vânători-Neamț Natural Park.
Every season, but especially in autumn, local producers, talented craftsmen and artists from Neamț meet at EcoBrunch in Bison Land, an event celebrating both culture and gastronomy, that supports the preservation of local authenticity, and the promotion of Bison Land as the only ecotourism destination in Romania included in Top 100 Sustainable Destinations worldwide.
For all that it represents today, and for all the joint and sustained efforts made to preserve local values and promote the region as a Green destination, Bison Land from Neamț County is now on the final list of nominees for "Destination of the Year 2023 Award". Each vote counts. You can make a difference by expressing your vote.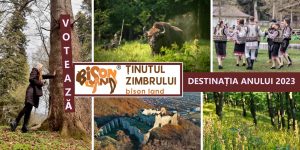 Until the 7th of April 2023, you can support Bison Land from Neamț by casting your VOTE here (CLICK)
https://www.destinatiaanului.ro/voteaza-destinatia-2023/
Step 1: You are required to vote in at least 3 categories.
Step 2: Press the "Submit Vote" button
Step 3: Go to your inbox and look for the confirmation e-mail sent by destinatiaanului.ro.  Confirm your vote by clicking on the link received in the mail.
Bison Land, ecotourism destination in Neamț County, overlaps Vânători-Neamț Natural Park managed by Romsilva, Târgu-Neamț town, and Agapia, Bălătești, Crăcăoani, and Vânători-Neamț communes.
The ecotourism destination was certified by National Tourism Authority in 2016, and since 2017 it has been included in the Top 100 Sustainable Destinations Worldwide, a global contest organized by Green Destinations in partnership with other 20 international organizations working in the field of sustainable tourism. It is the only destination in Romania ranked in such an exclusive top. In 2018 and 2019 the destination was also nominated for Best sustainable experiences and Best wildlife destinations. Bison Land received "People's Choice Award 2022" in the competition organized by Green Destinations. Moreover, "Vânători-Neamț Cultural-monastic landscape" is included on UNESCO indicative list, as the first mixed heritage site containing elements of both natural and cultural significance, in Romania.
https://www.visitneamt.com/2022/02/ecotourisms-development-in-neamt-county/
*"Destination of the Year Award 2023" is an event organized by "Destination of the Year" Club, which aims at supporting Romanian tourist destinations in their effort to create strong brand names in the tourism industry.
Bison Land (Ecotourism destination in Neamț County) was nominated in the "Natural Treasures" category in "Destination of the Year Award 2023" competition. You can read a brief description and the organizers' motivation for their choice here.
Along with Bison Land in Neamț, in the "Natural Treasures" category (presented by the Romanian Ecotourism Association), Pădurea Craiului from Apuseni Mountains, Carpaterra Geopark, Ţara Dornelor, Ţara Hațegului, Eco Maramureș, Colinele Transilvaniei, and Băile Tușnad were also nominated.