Neamț County will be present at "Romanian Spring in Brussels"
The 18th edition of the festival will begin this Sunday, April 23, starting at 12:00
Place de la Bourse, 1000 Brussels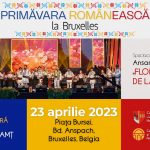 "Carmen Saeculare" Centre for Culture and Arts in Neamț is the guest of honor of the 18th edition of the largest festival of the Romanian community in Belgium, where the audience will be presented with numerous surprises that highlight share the beauty of authentic Romanian traditions, amazing folk artworks, and delicious Romanian food specialties.
Lead singers Diana Enea, Paula Andrei, Laurenţiu Marian, and Florin Mihuţ, along with "Zamfira" Folk Ensemble, accompanied by "Floricică de la munte" Folk Ensemble of "Carmen Saeculare" Centre for Culture and Arts will perform on the festival stage. The renowned and beloved group "Ad Libitum Voices" will also be present at the event.
During the days dedicated to Romanian culture, traditions and patrimonial wealth, visitors will get in touch with Ion Creangă's universe, thanks to the amazing clay modelling work of talented Ionela Lungu, they will be able to purchase rods and shillelaghs carved by Costi Lungu, but also carpets and traditional rugs made by Maria and Iulian Mihalachi, traditional belts woven by Marinica Todici, and last, but not least, traditional fabrics and embroideries made by Iulia Corău.
The curious will have the chance of learning the story of spinning the woolen thread, beautifully shown by folk craftswoman Maria Vasiliu, and will also enjoy contemporary handmade decorations and jewelry, culinary delights made according to traditional recipes, Romanian book stands and various animations and information stands.
Organizer: The Belgo-Romanian Cultural House (Arthis)
Co-organizers: Zamfira, KomBust, I-Art, Euro-Mara Events, Radio-TV Arthis, We in Europe, Elle/Zij – Romanian Women in Belgium, Arthis Artists, StuRo, MusicArthis – Piano B-Art, Femmes Roma, Street Art Music, Association of Romanian Parents from Belgium, Basarabeanca, Creative women.
Partners: Openbare bibliotheek Anderlecht, Openbare bibliotheek Jette, Openbare bibliotheek Sint-Agatha-Berchem, Openbare bibliotheek Laken, FARB, Top Business, "Floricică de la Munte" Folk Ensemble.
With the support of the General Secretariat of the Government – The Department for the Relation with Romanians Abroad.
With the support of: Brussels City Hall (Mayor's Office, Youth Department, Culture and Heritage Department, Equipment Department, Trade Department, Green Spaces Department), French Community Commission, Flemish Community Commission, Stedenfonds, Wallonia-Brussels Federation, Cocof – FIPI, "Carmen Saeculare" Centre for Culture and Arts in Neamţ Piatra-Neamt, Neamţ County Council.
Photo credit: Cristi Calistru
The event is organized with the support of Mr. Victor Negrescu – Member of the European Parliament. All costs of the participation of "Carmen Saeculare" Centre for Culture and Arts at the event are covered by Neamț County Council.