A new edition of "The Hope Chest" Art Festival
Come to Piatra-Neamț to attend the 17th edition of the beloved folk art festival!
Already a tradition, the festival in Neamț is the place of meeting with the real Keepers of Tradition, who owe the responsibility of preserving the priceless Romanian art and folk heritage.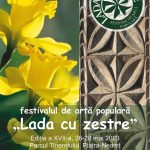 The weekend of May, 26-28, 2023 is dedicated to folk art, and it brings to the public and tourists alike the opportunity of a face to face encounter with tradition, with talented craftsmen or young artisans who carry on the valuable heritage.
As if it were in a large open-air museum of crafts, the artisans will carve wood, sew shirts, dye eggs, make ornaments, using their skills and mastery, as only they know how to do. Some of the craftsmen are participating for the first time in this festival: Ms. Rodica Mocanu from Tansa (Iași), who did not have the heart to let the tradition of ceramic working perish, and Mr. Cristian Mocanu, whose roots are in Neamţ County. Furrier Carolică Bordea is widely recognized for his beautiful Bukovina vests, while Mr. Iordan Gușatu from Băbeni (Argeș) is a master of wood carving, and from his hands, as if by a magic, covets and other household wooden objects appear in a perfect form. Almost 50 guests will come to the event, representing famous ethnographic areas in Romania. The famous ceramist and friend, Mr. Ruslan Scutelnic from the Republic of Moldova will also return to the festival in Piatra-Neamț, after several years of absence.
A much awaited special moment of this year's edition will be the launch of the photo-album "Wonders of Cooking. Tasting the last course", created by the renowned photographer Răzvan Voiculescu. It will certainly make your mouth water! The launch will take place on Friday, May 26, 2023, at 5 P.M., at the Art Museum in Piatra-Neamț. Along with the author, several guests will be present: Ms. Adriana Lucaciu, a well-known photographer and blogger, the director of the film that accompanies the photo-album, Ms. Lorena Oltean, traditional music soloist, and producer at Radio Romania, and Dr.Tinka Niysztor, specialist in the food culture of the Hungarians from Moldavia, as a "main character" from the album.
As always, ever since the first edition in 2011, the organizers will award "Neculai Popa" Special Prize for authentic folk art, to a craftsman participating in this year's edition of "The Hope Chest" Art Festival.