Preparations are in full swing for "B-Zone Folk" Music Festival in Neamț!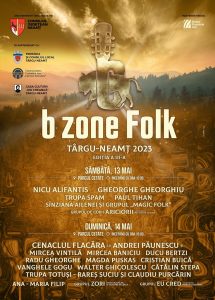 Folk music enthusiasts are getting ready to meet again in the city watched over by the imposing Neamţ Fortress, at the 3rd edition of "B-Zone Folk" Music Festival.
When?
On Saturday, May 13  &  Sunday, May 14, 2023: two days to remember, full of good quality music, on folk rhythms, at the foothill of Neamț Fortress.
On Saturday, the performances will start at 4 P.M. On the stage, located in the main park of Târgu-Neamţ, a town full of culture and spirituality, will perform: "Ariciorii" Children's Music Group, Sînziana Ailenei and the "Magic Folk" Group, Paul Tihan, Andra Andriucă and Bogdan Onofrei, and also "SPAM" Band. The evening will be electrified by the songs of Gheorghe Gheorghiu, and of Alifantis & Mirică – Gemini.
On Sunday, among the performers, we are pleased to mention: "Eu Cred" Cultural Association from Tașca, "Zori" Musical Group, represented by Daria Boghean and Teodora Beleaua, and Ana-Maria Filip.  The evening will end triumphantly, Andrei Păunescu and "Cenaclul Flacăra" will steal the show: Mircea Vintilă, Mircea Baniciu, Ducu Bertzi, Radu Gheorghe, Magda Puskas, Cristian Buică, Vanghele Gogu, Walter Ghicolescu, Cătălin Stepa and "Totuși" Band will make sure everyone in the public has an unforgettable evening!
"B-Zone Folk" Music Festival is organized by Neamț County Council, in partnership with Târgu-Neamț City Hall, "Carmen Saeculare" Centre for Culture and Arts in Neamţ and "Ion Creangă" House of Culture in Târgu-Neamț.
Free entry!
Pictures taken at the previous editions of the festival: