Articles tagged with: Snow Festival 2020 – Durău Park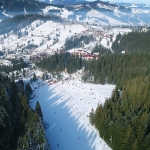 Come
and have fun in the snow at Durău Resort!
Photo gallery:
If you want to have fun and
enjoy the snow, then you are about to move to Durău Resort, starting January,
24 and until February, 2, 2020. Winter sports lovers are expected to spend two
weekends at the foothill of Ceahlău Massif. Durău Park is an ideal slope for
sledding and skiing, both for amateurs and advanced skiers.
Photo gallery:
With a length of 406 meters
and a width of at least 62 meters, a level difference of 35 meters and an
average degree of difficulty, the slope was …