Oglinzi Resort – Neamt County
24 September 2009
No Comment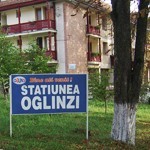 Contact information:
– address: str. Baile Oglinzi nr. 26, Neamt County
– tel: +(40) 233 79 01 11, +(40) 233 79 03 17
– fax: +(40) 233 79 03 17
– E-mail: [email protected]
Location: the Oglinzi Resort is located at 3 km from Targu Neamt at an altitude of 480 m
Short description:
Starting with the year 1888 the Oglinzi Resort is under the administration of the city Targu Neamt. The mineral waters that can be found here were first used by the locals and from 1856, after some chemical analysis the therapeutic qualities of these waters were recognized worldwide. The forest that surrounds the resort provides fresh air rich in negative ions.
Until 1939, the Oglinzi Resort continued to develop: tourists came from all over the country and each day the military orchestra was holding small concerts. In time, because of the lack of funds the resort started to fall. The entire resort was reopened in 1988.
The resort was modernized in 1998 in terms of accommodations and treatment. The waters from Oglinzi hold the 5th place in Europe for its therapeutic qualities.
Today the Oglinzi Resort has a treatment base with warm baths, paraffin packing, galvanic baths, dynamic currents, ultrasound, massage and medical gymnastics. Here you can treat rheumatism, gynecological, dermatological, respiratory diseases, post-traumatic neuroses and asthenic. For leisure and entertainment the resort offers many possibilities, namely: club, cinema, mechanical games, tennis and volleyball, trips to the sights of the surroundings.
Starting with August 2009 the Investment Fund SIF Transilvania started a modernization project of $20 million. They will build a 4 star hotel with an accommodation capacity of 240 seats, a SPA center and a conference center, but also planning a recreation area on a surface of 9000 m2.