Traditional Martisor Festival in Piatra Neamt, 2010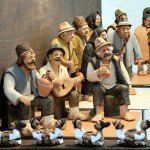 Last weekend hundreds of people visited our Martisor Festival located in the historic center of Piatra Neamt. Local artists and craftsmen from Neamt County and all of Romania gathered to present handmade objects that we call Martisor,  considered to be a symbol of Spring and good luck.
The tradition of Martisor is more than 2000 years old and we are still practicing this tradition annually on March 1. There are numerous legends about the significance of Martisor, about the red and white wires but in a simple way Martisor represents a messenger of Spring that brings good luck and protection.
The visitors bought original Martisor made out of natural textile material, ceramics, small jewelries, religious icons, small wooden sculptures – all handmade by craftsmen that carry on the Romanian traditions. We also had gastronomic Martisor represented by honey and natural juices.
This was the first edition of Martisor Festival organized only with traditional craftsmen in Piatra Neamt that we hope to become an annual favorite.