The Lidian Icon – the priceless religious-icon from Neamt Monastery
4 October 2010
No Comment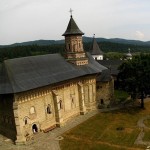 Neamt Monastery represents an old religious settlement from Neamt County where the beauty of nature blends with the inner cultural light of the monks and the pilgrims that come here in search of some quite moments. The monastery is seen as a true stronghold of Romanian Orthodoxy that hosts a rich collection of religious objects with a great cultural, historical and religious value.
One of the most important objects from Neamt Monastery that also has a special religious value can be seen in "Inaltarea Domnului" Church from the inner court of the monastery: this object is the religious-icon of St Mary Mother of Jesus, also known as The Lidian Icon. This religious-icon dates from 665 and was painted in Lidia, the home land of St Gheorghe. In 1429 the religious-icon was given as a gift to ruler Alexandru cel Bun by the Byzantine Emperor Ioan Paleologul the VIII.
The icon is placed in the nave of the church and it represents St Mary with baby Jesus sitting on her left arm. On the other side of the icon you can see a representation of St Gheorghe, pictured as a soldier sitting on a chair with the dragon killed at his feet holding in the right hand a spear and in the left hand a sword. The painting is protected with a metallic ornament created between 1844 and 1845.
The icon of St Mary is also known as The Lidian Icon because it's considered to be a replica of the icon of St Mary from Lidia. Another reason for this name is because on the back we can see the icon of St Gheorghe that was born in Lidia. The icon of St Mary from Neamt Monastery is well known as a miracle-icon and this is one of the reasons many pilgrims choose to visit this monastery.
Read more information about Neamt Monastery (history, attraction points, images, video and its hermitages).