The Oak Reservation Dumbrava Neamt in the colors of autumn
24 October 2012
No Comment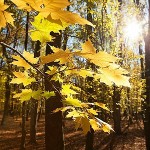 Vanatori Natural Park is located in the north side of Neamt County and hosts a wide variety of natural, cultural and historic values. On the range of the park there is a wealthy diversity of both flora and fauna that represents an indicator of the adaptability of the local species.
The Oak Reservation Dumbrava is part of the three protected areas from Vanatori Natural Park. It reaches a surface of 56.6 ha and it's located between the valley of Neamt spring and Neamtisor spring. This is forest type reservation where tourists can see very old species of oak.
The area is absolutely gorgeous and the best time of year to take a walk in this forest is during autumn when the bright and beautiful colors of the leaves will be a delight to watch. This is the time when the trees get ready to receive the cold of winter but there are still some weeks before the first snow.

Autumn in the Oak reservation Dumbrava 2012, Neamt County
So, if you are passionate about nature walks we invite you to experience the beauty of these oak trees, now, during autumn, the most spectacular season of all.